Punchers' chance
The Ringside guests weigh up this weekend's explosive clash between Alfredo Angulo and James Kirkland
Last Updated: 03/11/11 7:30pm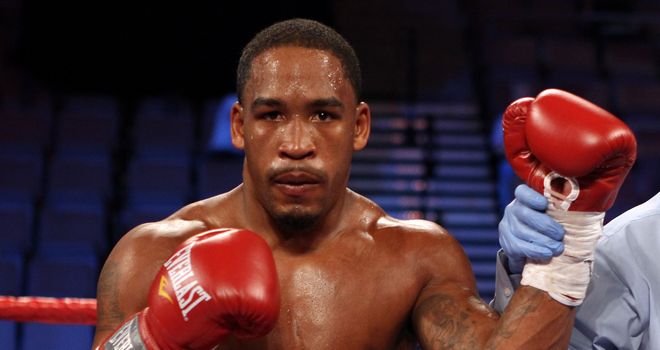 Glenn McCrory believes boxing fans will be in for a treat when knockout specialists Alfredo Angulo and James Kirkland clash this weekend in a mouth-watering junior middleweight contest broadcast as live on Sky Sports Xtra.
Kirkland will be stepping into the backyard of his fancied Mexican opponent, with Angulo, who has 17 K0's from 21 fights, putting his number two WBC ranking on the line.
A win for the American would propel him into the top five and whoever comes out on top at the Centro de Cancun will fancy a shot at Saul Alvarez's world title.
Former world cruiserweight champion McCrory told Ringside: "This is one that everyone's going to be looking forward to because you've got two extremely big punchers with 43 knockouts between them who just like to get stuck in.
"Angulo doesn't need to take this fight but that's a measure of his confidence. He's the number one contender for Alvarez's title and just wants to get in there and beat somebody up!
Outsider
"Kirkland can punch. He's had one bad knockout loss but therein lies the story. Anybody could go here but I think Angulo has a little more confidence and is a bit tougher.
"It's a very hard fight for Angulo. Anyone who punches like Kirkland, who's only lost one fight, has got a real chance. But it's the Mexican way. They don't duck fights. He's not afraid of anyone.
"He doesn't need to take it but it'll make him a better fighter, so why not? Kirkland's the outsider and Angulo knows if he hits him with one of his shots he'll knock him out and that's what he'll probably do.
"He's tough, he's durable and he just wants to get in there and land his punches and that's why I think Kirkland suits him."
One thing in Kirkland's favour is that Angulo has never fought a southpaw before and fellow Ringside guest, promoter Spencer Fearon, said: "That could be very interesting.
"I want to see how Angulo deals with a southpaw stance - if he can step across, drop his right hand in - but I don't know if Angulo's smart enough do it.
"Kirkland is a vicious, vicious guy. He's all business. It's going to be very interesting, they're both going to be on top of each other. It's going to be a great, great fight."
Coverage gets underway on Sky Sports Xtra at 10am on Sunday.