Warren blast for Braehmer
Frank Warren has slammed Juergen Braehmer after he pulled out of Saturday's title fight with Nathan Cleverly.
Last Updated: 18/05/11 9:15pm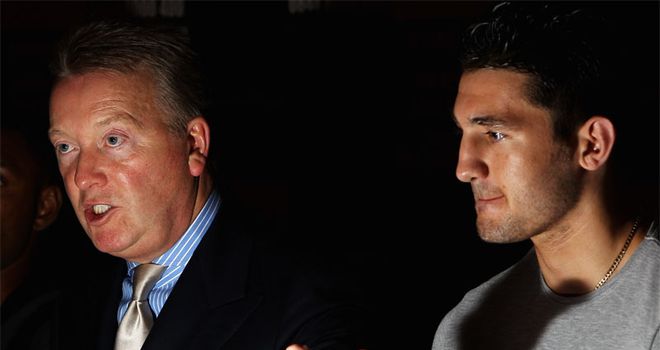 Frank Warren has criticised Juergen Braehmer after the WBO champion pulled out of Saturday's light-heavyweight title fight with Nathan Cleverly.
The German withdrew from the clash after an apparent eye injury suffered in training 10 days ago failed to heal sufficiently.
But promoter Warren now hopes the WBO strip Braehmer of his title, which he has defended just once since winning it in 2009.
Warren, who only heard the news via internet reports from Germany this morning and when Braehmer's team cancelled their boxer's hotel booking, is waiting to speak to the Puerto Rico-based WBO later on Wednesday.
He hopes that they have taken action and upgraded Cleverly from 'interim' to full champion status.
"What we believe will happen - we're just waiting for official confirmation - is that Nathan will be declared champion and we're looking for an opponent for him to defend against on Saturday," he said.
Talking
"We hope we will have a name before the close of business today. We are talking to a few fighters who have got good records and are ranked. It's just a matter of trying to agree terms with one of them."
Warren revealed he sent a driver to collect Braehmer from the airport on Tuesday but he did not turn up, claiming he had missed his plane and would arrive on Wednesday instead.
However Braehmer, who also pulled out of a January unification fight with Beibut Shumenov, did not arrive on Wednesday morning and Warren then heard via the internet that the fight was off.
"Eventually we were told by Universum (Braehmer's promoters) that he was out due to a cut eye," Warren said.
"We received a medical from him two days ago and he didn't have a cut eye two days ago, yet I think it was the German newspaper Bild who said it's a cut that is one-and-a-half weeks old and has opened up again. Well, it's not in his medical.
Disgraceful
"It's disgraceful, what's happened here. It really is the bad side of the sport. Something needs to be done about it and I'll obviously be complaining to the WBO but because of the time difference we have not managed to speak to anybody there."
Warren added: "What's even more disgusting is reading about it on the internet.
"At the moment all I want is the WBO to do what they have said they would do and strip this guy, because it's not the first time he's done this. He has a track record for it. He's a let-down."