Storm clouds are gathering
David Haye makes a sharp exit from the media workout as Wladimir Klitschko turns serious.
By Tim Hobbs in Hamburg
Last Updated: 02/07/11 2:40am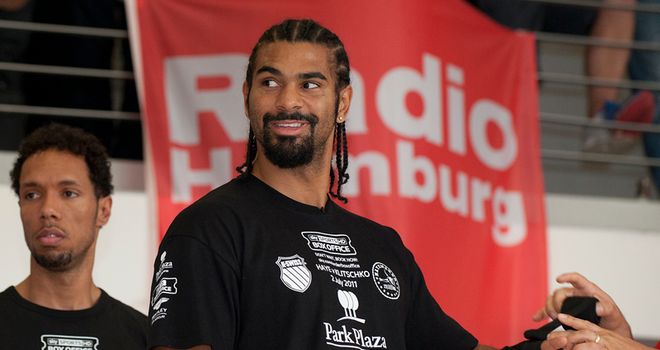 Well it's finally happened. The sunny, warm outlook has finally cracked. Just as I said when I began these Hamburg happenings, a storm has been brewing all week - and this afternoon the clouds came over. Oh, and the weather has taken a turn for the worse too.
His face might not exactly have been thunder but at Wednesday afternoon's open workout, Wladimir Klitschko pulled his gameface on and was as angry as I have seen him throughout the build-up. Don't get me wrong, he was still his charming self and happily chatted to the media after his session with Manny Steward, but all of a sudden the warm front had subsided.
The cloud on his horizon is of course David Haye and today, Wladimir finally seemed to have had his fill of the fun and games David and his team have been playing this week. Steward who, by the way gave a very public show of love for his fighter by taking the mic and piling on the public praise, has copped it of course and I got the feeling that for Wladimir, that was one step too far.
The row over referee Genaro Rodriguez rumbles on still but now we're getting closer to the centre of the storm, Wlad wants this. And he wants it more than any other. The 50 will be a little more than nifty, as he keeps reminding us.
David for his part, was pure David. Love them or loathe him and his team, they do raise the odd chuckle. But they know exactly what they are doing. They were on-time today, to take to the ring at the sweltering Mercedes-Benz centre on the south side of the city, first.
They did so under the watchful gaze of Wlad and his team. Vitali was there of course, and keeping a safe distance this time round, I can't offer you anything new from him, although he did look a little cheerier.
Haye and Adam Booth seem to lap up these occasions and as David went through his shadow-boxing routine, cameras rolled, lenses clicked and conspiracies sprung up left, right and centre. A quick southpaw spell scrambled more than one brain.
Inside
Could this be the something different, the unexpected we have all come to expect? It's doubtful, but what was apparent was that Haye has been working on getting inside and coming up with his punches and, it should be said, getting out just as quick.
Booth then climbed into the ring in his Gothic platform shoes - shorter than the monstrosities needed for Nikolai Valuev - and what is basically a hand on a stick. It may have looked like something you would use to unblock a toilet but it has served as Klitschko's jab for the last two months and will need to do its job.
If you've ever managed to sit through Total Wipeout on a Saturday night the contraption is the same as those that come springing out of that wall as the latest whacky wannabe tries to stay upright and avoid the mud. It might be enough to floor a rotund shop assistant from Rhyl, but we will have to wait and see if it's done its job in bringing about the downfall of a heavyweight champion from Kiev.
Waiting though was not on today's Hayemaker agenda. As soon as David landed his first right on the pad, Booth tossed it up in the air and quick as a flash it was over and they were on their way out of the ring. Symbolism at its finest or simply another stunt to annoy Wladimir who, after taking his usual eternity to tape up, begged David to stay and watch him? He did for a bit, but by the time he was into his rather robotic warm-up Team Hayemaker had headed for the exit. And I am pleased to say this time, they took George Groves with them.
Opened
Wladimir went through some rather static looseners, all well-rehearsed and right angled, before he too took to the pads. Then it became clearer that what he lacks in fluidity he makes up for with his fists. Manny Steward was forced back on more than one occasion and the locals in attendance lapped it up.
Steward then gave his speech was surely an attempt to stitch up any wound in their relationships Haye might have opened on Tuesday. It was hard though, not to raise an eyebrow when he claimed his man to have the best heavyweight footwork around; although in the great man's defence he had been busy as Haye had skipped nimbly out of the back door.
Both Steward and Klitschko chatted freely with fans and media alike for a good half-an-hour after finishing up. There will be more of what Manny had to say on this site tomorrow, while when it came to my turn with Wladimir, I did not need one of his team to wonder why I was bothering: "He's been saying the same thing all the time. Why don't you just listen?". Well, excuse me for doing my job my friend.
Seriousness
Of course, Wladimir was happy to chat, as always. This time though, it looked like he'd had up to his considerably lofty "here" with Haye. And it sounded like it too. After losing my bottle with Vitali I bit the bullet and stared him in the eye, or the windows to his soul as he calls them, and there was a seriousness I have not seen before. He is enjoying this as much as David, I can safely say.
But I am still, hours later, a little sorry to say I did not do as his press man suggested and ask him what he thinks about Andy Murray's chances at Wimbledon or the fact that Cheryl and Ashley might be back on. If they want something different, I guess they will have to wait for David Haye to do his stuff on Saturday.
To their credit, Steward and Klitschko were still talking away to any and everyone by the time I made my exit, having been told by someone back at Sky Sports News that I had been on shot throughout Craig Slater's interview with the affable Michael Hunter. And I had yawned.
It was nothing to do with anything either was saying, more to do with the stifling heat in the Mercedes-Benz showroom we were in. I'll never earn enough to own one (especially after this week), but I can only hope the air-con in their cars is better than their buildings.
I'm glad to say the taxi myself and photographer Justin finally hailed down was a cool enough. Although when the driver said he'd been watching us for two minutes but couldn't pick us up because he "had a wife in my car", my spine shivered, not for the first time this week. Was it his wife? And more importantly, where did she vanish to so quickly?
The clouds are gathering here in Hamburg...