Carl Froch's form should put Lucian Bute off re-match, says Glenn McCrory
Glenn McCrory says Lucian Bute would be unwise to insist on a re-match with a dominant Carl Froch.
Last Updated: 18/11/12 1:28pm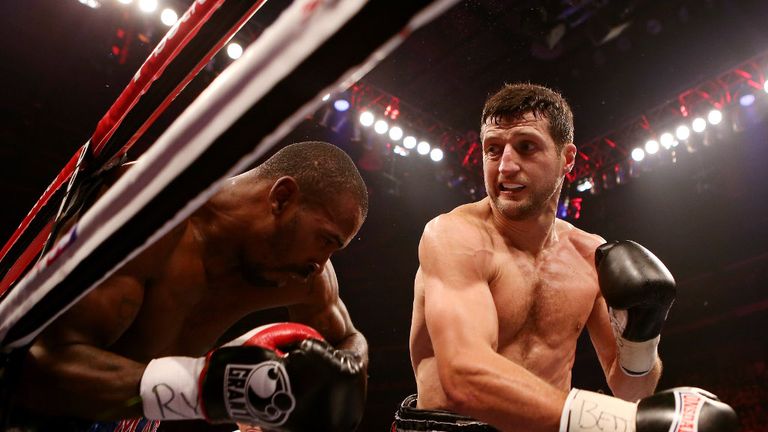 Froch, 35, retained his IBF super-middleweight title in Nottingham in impressive style - putting his American challenger on the canvas with two hammer-blow body shots.
After the fight Froch said he is ready for rematches against Bute, whom he beat in May and could fight again in March, as well as Mikkel Kessler and Andre Ward.
But McCrory told Sky Sports that if Bute had any sense, he would not take the return fight - even if it did take place on his home turf in Montreal.
"After seeing that performance I don't think Lucian Bute should or would have anything to do with him, because Froch is getting better," said McCrory.
"He's looking stronger, he's looking physically better - he's looking more confident. You would have thought that the Ward defeat would have taken something away from him but it has made him more determined, it has made him a better fighter."
Fast
Froch was outclassed by Ward in the final of the Super Six super-middleweight tournament in December 2011, 18 months after losing on points to Kessler.
But McCrory is confident that should Froch get another shot at the former, the result could be very different.
"If that Andre Ward fight comes about, I think Froch will do better.
"He's so fast that at times he looks a little bit crude in the way that he attacks but he gets shots on very quickly with an awful lot of force and it's very hard to defend against.
"I didn't think we'd see another ambush in Nottingham, but we got one."
Dangerman
Fellow Sky Sports expert Steve Collins agreed that Froch is a dominant force and questioned whether, on current form, anyone could live with the Brit.
"There are only two or three guys in the world who would stand a chance of going the distance with Froch right now," he said. "He's on top form. There are very few super-middleweights around now - other than Andre Ward - who would beat him now.
"I don't think Kessler would beat him now. He's a better fighter now than when he fought Kessler. The only dangerman out there is Andre Ward, who is that bit special.
"Froch could still beat Andre Ward on his performance tonight, if he works the body early and slows him down."