David Haye's heart not it in and Tyson Fury to miss out, says Glenn McCrory
Glenn McCrory doesn't see David Haye returning to the ring which, he says, is a huge blow for Tyson Fury.
Last Updated: 19/11/13 10:15am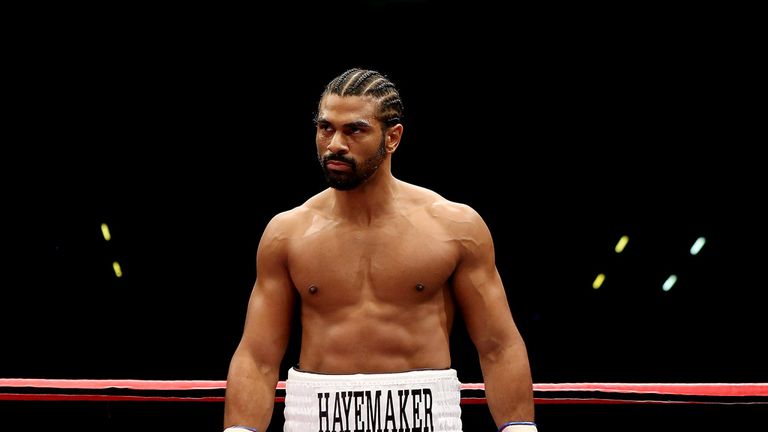 It is the second time the heavyweight bout between the pair will have been cancelled, Haye pulled out of the fixture in September with a deep cut to his eye, and McCrory told Sky Sports News that he has sympathy for Fury who, he feels deserved the big fight planned for next February.
"I feel sorry for Tyson Fury," says McCrory.
"He's worked long and hard and has been very professional about the whole training process for David Haye - he's taken it very seriously.
"I feel sorry for him that he's been robbed of what may have been a great victory and making his name but I think hopefully he can get a big fight because he deserves to get one and hopefully one of the Klitschko brothers will accommodate Tyson Fury."
The end for Haye
Haye, a former world heavyweight and cruiserweight champion, returned from a brief retirement to fight Derek Chisora in 2012 but injuries have resulted in bouts with Manuel Charr and the two with Fury to be cancelled since.
McCrory told Sky Sports News that he believes Haye's "heart wasn't in it any more" but he thinks the 33-year-old Londoner has plenty to offer after boxing.
McCrory said: "I think this probably is the end for Haye.
"David made no bones about the fact that he was going to retire when he hit 30 a couple of years ago and he came back from that retirement but I don't think his heart has really been in it.
"I think it's very hard when your heart is not in it because you're going to take your eye off of the ball and I think that's the case - I don't think David Haye's heart has been in it.
"He's a celebrated champion, he was cruiserweight champion, heavyweight champion and he's got nothing really to prove and if he's just fighting for the money it becomes very difficult.
"There is a life after boxing and I think David's got an awful lot of charisma. We saw him when he was in the jungle on 'I'm A Celebrity Get Me Out Of Here' and on other TV appearances, he's got that charisma and he's very nice guy so I think there is that future for him.
"But when you've been a fighter all your life we all face the fact that it is very, very difficult to tear yourself away because that's what you've always done since you were a child; you've always been preparing for fights, you've always had that adrenaline.
"We've seen how difficult it is, not just in boxing but in other sports as well to then find yourself not in the limelight and not training and that might be a problem for David."