Cobra has plenty of bite
Carl Froch returns to his favourite stomping ground this weekend when he defends his IBF super-middleweight title against Philadelphian Yusuf Mack in his home town of Nottingham.
By Adam Norman
Last Updated: 15/11/12 3:37pm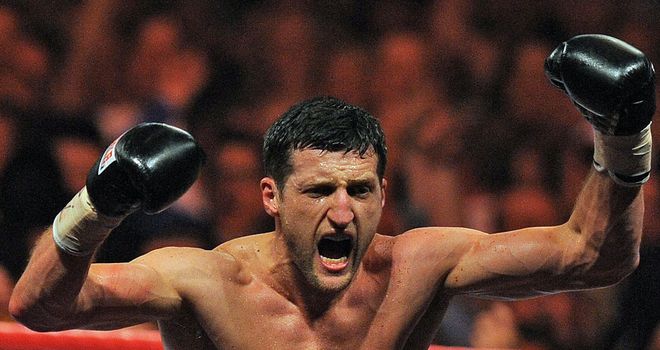 Carl Froch returns to his favourite stomping ground this weekend when he defends his IBF super-middleweight title against Philadelphian Yusuf Mack.
The Cobra's sensational victory over then-champion Lucian Bute in May remains fresh in the memory and it is not difficult to envisage a similar outcome this time around.
Nottingham's favourite son raised the roof of the Capital FM Arena on his 'homecoming' against Bute, battering the Canadian into submission in five one-sided rounds.
Froch, now 35, told Bute before the fight he was insulted that Bute thought he could come to his 'fortress' and take home the title.
Froch had different ideas on his first fight at home since 2009 and he had the same steely glare in his eyes when he looked into those of Mack this week and said: "You are going to feel the full wrath of the Cobra."
He continued: "It's going to be difficult to top the night I had against Lucian Bute. It was phenomenal, electric and the performance backed up the atmosphere. The whole occasion, the timing off the back of the epic battle of the Super Sixes, to come home and become a three-time world champion, to beat Lucian Bute.
"It'll be difficult to eclipse that but we've got a full house so I'm expecting an unbelievable atmosphere and I'm really looking forward to it.
"I'm going to give the crowd what they want, the television what they want, it's an entertainment sport and I always do my best to get the stoppage if it's there."
It's difficult to make a case for the 32-year-old American to cause an upset. Mack held his own against world champions Glen Johnson and Tavoris Cloud - but only for so long.
He does not carry huge power and doesn't have the chin of Froch as four stoppage losses might suggest.
Ahead on one scorecard against Cloud heading into the eighth, Mack went from hero to zero after being sent down for a second time - unable to answer the referee's call to walk forward.
Froch has been down just once in his career against Jermain Taylor, but had the cajones to meet fire with fire and drop the former middleweight champion deep in the 12th for a stunning upset win.
Mack hasn't been where Froch is likely to take him and the intensity the crowd favourite will bring is going to be too much for the American, who should be overwhelmed in the middle rounds.
While insisting he was coming to win, even Mack's trainer didn't appear to be too confident heading into the contest.
"This is an uphill fight and we know it," admitted Percy Custus. "Just before we got the call we were saying how good this guy was, we weren't even thinking about fighting him. I was saying 'this guy is a beast'.
"They called me up and the numbers were better than other fights on the table. So we went on down a weight to get paid."
We'll leave the last word to Froch, who left us in no doubt regarding the outcome on Saturday night.
"People say he's an easy opponent - it's a load of rubbish. I prepare, and prepare meticulously, and I'm going to do the business."
Join skysports.com for live interactive commentary from ringside for Fight Night in Nottingham featuring Carl Froch vs Yusuf Mack.