Make or break?
It's crunch time in Los Angeles... Amir Khan takes on the undefeated Carlos Molina this weekend and knows that nothing other than a convincing victory will do to get his career back on track
Last Updated: 14/12/12 11:16am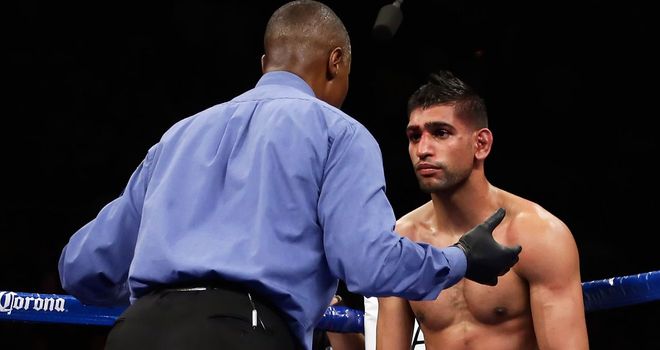 A controversial loss to Lamont Peterson in Atlantic City was followed by a brutal fourth round stoppage at the hands of Danny Garcia in July in which all of his old frailties were exposed.
That loss forced the 26-year-old from Bolton back to the drawing board and led him to part company with trainer Freddie Roach. Khan has now teamed up with Virgil Hunter - who also trains middleweight king Andre Ward - and insists he will return to the ring a "wiser, smarter and more mature fighter".
The Briton undoubtedly still has time on his side but knows that he cannot afford any more slip-ups heading into this weekend's showdown in Los Angeles.
But he will face a hungry man with unbeaten Mexican-American Molina acknowledging this is an unexpected chance to push himself into world title contention.
With so much on the line for both fighters, we look at what the two men have had to say in the lead-up to the fight.
MOLINA - BIGGEST OPPORTUNITY OF MY LIFE
Molina explains how the fight with Khan came about and how excited he was when his manager told him the contest had been confirmed.
The Mexican-American predicts an all-action encounter and vows to take what he describes as the "biggest opportunity of my life" and the chance to put himself in world title contention.
KHAN - I NEEDED A CHANGE
Following his defeat to Garcia, Khan acknowledges that he had to change things in order to revive his career and that led to him splitting from Freddie Roach.
The Briton has now teamed up with Virgil Hunter and believes the experienced American can help him become a more complete fighter, adding the kind of defensive skills that have made another of his charges, Andre Ward, such a respected operator.
MOLINA PREDICTING SHOCK VICTORY
Molina talks of his confidence heading into the fight and believes he has the style and power to cause what would be a major upset.
The 27-year-old vows to "let my hands fly" and drag Khan into an "all-out war". He insists he will make Team Khan pay for their decision to select him and has no doubt he will emerge victorious.
KHAN - IT'S MAKE OR BREAK
At the final press conference ahead of the fight in Los Angeles, Khan accepts that he is preparing for what is a must-win fight.
The Briton admits that, in order to get himself back amongst boxing's elite, he has no choice but to beat Molina and beat him in style, although his opponent claims he will expose Khan's mental fragility.
BACK TO BASICS
Sky Sports' Johnny Nelson goes to meet Khan on the eve of the fight and discovers what he's been learning under new coach Virgil Hunter.
Amir explains just how he has benefitted from the calm, low-key atmosphere in the King's Gym in Oakland and reveals how Hunter has helped him understand the mistakes he was previously making.