George Groves on sparring with Mikkel Kessler ahead of their big fights
George Groves is out in Denmark sparring with none other than Mikkel Kessler - and has no plans to take it easy.
Last Updated: 10/05/13 3:04pm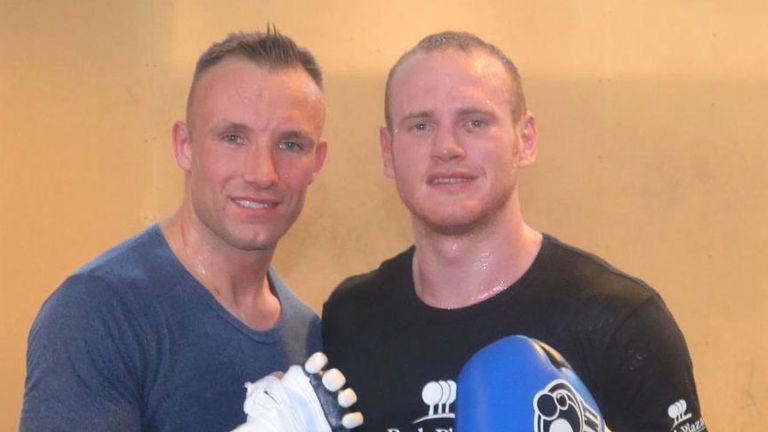 The Commonwealth super-middleweight champion flew out to Denmark on Monday to work closely with the Viking Warrior in preparation for the May 25 showdown at the O2 Arena, live on Sky Sports Box Office HD.
Groves, who had his first session on Wednesday night and wants to spend at least a week sparring in Copenhagen, readily admits that history might be the one thing that works in favour of his compatriot Froch.
"I am not going to tell Froch anything because anyone could do that to me, " Groves told skysports.com.
"You kind of spar behing closed doors and that's where it stays. And I won't be telling either of them anything; that is a sort of etiquette in boxing and also, I am out there for my self.
"If Carl is worried he knows that the first time he boxed Kessler I sparred him and he ended up losing the fight, so maybe I am doing him a favour now. Maybe I am a blessing in disguise!"
Groves, who takes on Noe Gonzalez in the chief support to Froch-Kessler II on May 25, insists he will not be taking it easy - and doesn't expect Kessler to either.
The 25-year-old is more concerned with working with a world-class fighter because he is looking at challenging for a word title himself before the end of the year.
Friendly fire
He is hopng that the showdown with Alcoba, a hard-hitting Uruguayan may yet turn into some sort of eliminator, with his eyes firmly focused on the highest level.
And now he is with Matchroom fighting regularly, he knows he has to step up his game to fulfill his ambition sooner rather than later. And that means this sparring will be tough.
"This will be friendly fire!" he said.
"I am going over there and I will be working with, or alongside, Kessler but we are both preparing for big fights, so it should work for the pair of us.
"This is very important for me. I've had world-class sparring before but if I'm honest, because world-class fighters are all over the world and it's hard to locate them, sometimes you just have to settle for mediocre sparring.
Preparing
"Well this is with a world-class fighter, at my weight, a current world champion and preparing for a world title fight so this is probabby the best sparring I could get right now."
It was promoters Sauerland who wanted Groves to work with Kessler having seen him sparring "a while back".
And once he put it to trainer Adam Booth, the trip to Denmark was put in place with a team that includes his trainer, Andy Lee and Deion Jumah, a Sauerland fighter.
Nathan Cleverly is also out there sparring too to complete a British-based team and Groves hinted that even David Haye will be joining them before they head home!
"It's a nice little team and it's nice to have some mates out there, so we'll take Copenhagen by storm!" he said.