No respect
Carl Froch says that, while he and Mikkel Kessler share a mutual respect, it will be left at the changing room door on May 25.
By Adam Norman
Last Updated: 21/05/13 12:25pm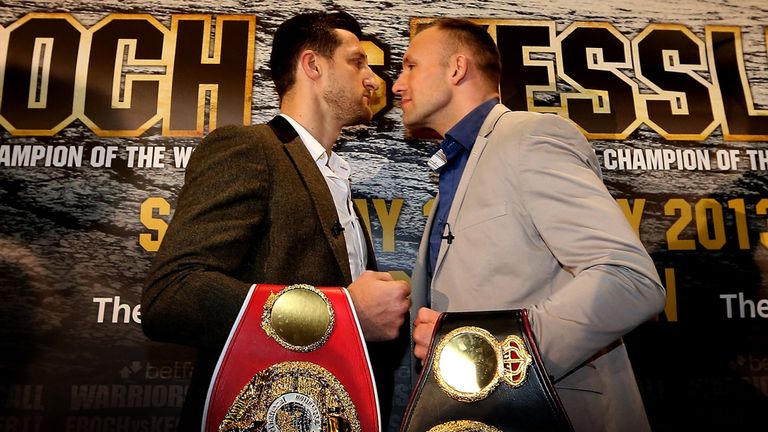 Friendship will be put to one side when Carl Froch takes on Mikkel Kessler in their hugely anticipated rematch at the O2 Arena in London.
The pair are likes are like two peas in a pod - gentlemen outside the ring yet bloodthirsty warriors in it.
Such attributes have brought a mutual respect that is rare amongst two active fighters. However, such feelings will be put to one side come May 25.
I've not spoken to him for a while," Froch told Sky Sports. "He's gentleman, we're cut from the same cloth. We're both fighting men and straight-talking.
"He's got something I want, and I've got something he wants. We'll be friends before and after the fight, but during it there'll be no respect at all.
"I was looking for little signs of weakness at the press conference but he means business and he's on his A game so there's no weak spots.
"It's going to be a tough, close contest."
Stoppage
Kessler has fought only three times since their first fight in Herning, Denmark and has not been operating at Froch's level.
An early stoppage victory over an ageing Brian Magee last time out proved little even though it brought with it the WBA strap.
"I knocked Brian Magee out six years ago, and he folded to a body shot which usually means a fighter's coming to the end of his career, but that's doesn't mean Kessler's past it," said the Cobra.
"Let's not forget he's two years younger than me so he's a bit fresher and he's not been fighting at a high level for a while.
"I don't think there's anything new to his game, what you see is what you get and you know what he's going to bring. He can box and move, and he can stand and fight, he can take a shot and can punch as well."
Gameplan
Froch has gained a reputation as a 'stand and trade' warrior but he confessed to entering the ring with a different gameplan.
"Every time I box Plan A is to hit and not get hit," he said. "Every fighter wants to land his shot and keep out of range. I've got a good reach on him and in the first fight I didn't use my jab like I should have.
"My late preparations went pear-shaped and I was a bit weight drained, so I had to stand in front of him and try to knock him out.
"So even if my tactics go how I want them to for two or three rounds, use my jab and box and move, my A game is to pressurise and back them up.
"Even if I do that there's going to come a stage in the first quarter of the fight when we'll be standing in front of each other and letting shots go. I think it's going to be all out war, I really do."
Froch's legacy would be secure should he set the record straight with Kessler although he freely admits, success on this scale was beyond his wildest dreams.
"I was never going to turn professional, so I never had any ambitions of becoming world champion," he added. "Even when I turned 24 I wanted to stay amateur and focus on making the next Olympics.
"Rob McCracken told me to turn pro and I thought I might be good enough to win a British title. I looked at the likes of Benn, Eubank and Calzaghe at that time and thought they would be too big and too strong.
"I've never set out to be what I've become and it's been a slow, natural progression for me and I just take it all in my stride."