Mikkel Kessler is the most popular sportsman in Denmark, says Peter Sloth
Danish boxing writer Peter Sloth explains why Mikkel Kessler is the most popular sportsman in his country.
By Peter Sloth
Last Updated: 21/05/13 12:26pm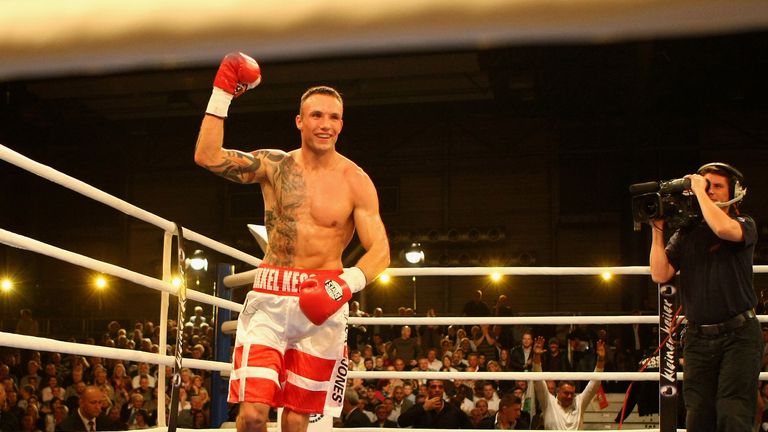 It's a lot of money and therefore it's quite surprising an estimated 50-70,000 households in our small country - which only has five million inhabitants - are going to invest in a TV-event, that could last anything from three seconds to a maximum 36 minutes.
Add to that figure that approximately 2,000 Danish fans will be present in London's O2 Arena when the two fighters are meeting again, and it tells you something about the huge interest the Scandinavians have in Mikkel Kessler.
The Viking Warrior, Kessler's fighting name, is known by everybody from young boys to old ladies. There are several reasons for this.
He's, without a doubt, the best fighter Denmark has ever produced. In the mid-1960s the middleweight boxer Tom Bogs (nice name for a fighter, right?!) fought for the world title against Argentine fighter Carlos Monzon in Copenhagen. But Bogs lost and never fought the biggest fights again.
In terms of popularity Kessler might share the title as 'most popular Danish fighter ever' with heavyweight 'Super' Brian Nielsen, who in his professional career from 1992 to 2003 (with a one fight comeback in 2011) met huge names like Larry Holmes, Mike Tyson and Evander Holyfield. But to be honest, the extremely famous Nielsen made 99 percent of his popularity by being kind of a circus clown and with his ability to swear and tell jokes on live TV!
Secondly, Kessler's fame and popularity comes from phenomena that have nothing to do with what's going on in the quadratic ring. His mum, older sister and niece have their own weekly show on Danish TV3.
His mother Ann, an English woman in her mid-70s, is the 'Godmother' of the family, and she's famous for visiting her local pub for a pint of dark ale 365 days a year. Older sister Linena, only known by her nickname Linse, is very close to being as big a celebrity as little brother Mikkel, while her daughter Stephanie is a professional pole dancer. With those three characters - mother, daughter and granddaughter - the TV show has reached extreme popularity in Denmark.
The TV show is called 'Familien fra Bryggen' (which could be translated into 'The Family from the Harbour', since 'Bryggen' is a harbour based working class area in downtown Copenhagen). Kessler himself has on few occasions starred in the TV show, but it's quite obvious that he isn't too happy participating in that kind of reality TV. For one reason: Kessler is quite shy by nature.
During a professional career that has now lasted for 15 years, of course he's been forced to 'open up' for the public, but nobody really doubts he's having his best times relaxing with friends, family and girlfriend Lea Hvidt, a Danish model, without rolling TV cameras pointing at him.
Popularity
How can it be proved that Kessler is the most popular Danish sports star for the last decade? Of course it can't be proven scientifically, but a number of indicators talk for that fact.
In the 21st century, where physical newspapers are struggling to sell copies, Kessler can, with a Saturday night win, sell between 10 and 30 percent more copies of the Danish tabloid papers.
He did that - or at least helped the process of selling all those papers - with his 2010 defeat of Carl Froch, with his 2011 win against French fighter Mehdi Bouadla and with his 2012 victories over both Allan Green and Brian Magee.
Another indicator of Kessler's popularity comes when he's compared to other Danish athletes. When tennis player Caroline Wozniacki a couple of years ago reached the final of the US Open the viewing figures reached the same figure that saw Kessler lose to American super middleweight Andre Ward in 2009. The big difference was that Wozniacki's tennis final went on free TV, and Kessler's California clash with Ward cost the viewers £55!
Critics
Of course nobody can be friends to everybody. A very small minority of the Danes are not fans of the Viking Warrior. For some it is because they don't like his noisy and colourful family. For others it is because they don't sympathise with the fact that Kessler, just before receiving a fee of $5m for his 2007 fight with Welsh super fighter Joe Calzaghe, moved in a hurry to Monaco.
In the tiny state he was charged 0% tax on those $5m. In Denmark - maybe the country in the world with the highest tax rates - he would have been charged more than 60% in income tax for the whole amount.
But most Danes don't mind about noisy family members or tax speculation as long as Kessler returns from London after the May 25 fight with another victory against Nottingham fighter Carl Froch.
The whole country will stop for those seconds or minutes the fight will last, following the glove duel on pay per view, on online live commentary or - for the luckiest ones - live at the O2 Arena.
And for the record: Kessler has moved back to Copenhagen and will therefore pay Danish tax on his fee, an amount estimated to be £1.6million. Sixty percent of that amount and the Danish state will be able to pay for a lot of school teachers, kinder garden assistants and so on...

Peter Sloth is a boxing reporter and sports writer for Danish newspaper Ekstra Bladet