Follow the big fight between Carl Froch and Mikkel Kessler tonight
Repeat or redemption? The rematch between Carl Froch and Mikkel Kessler is just hours away
Last Updated: 25/05/13 2:07pm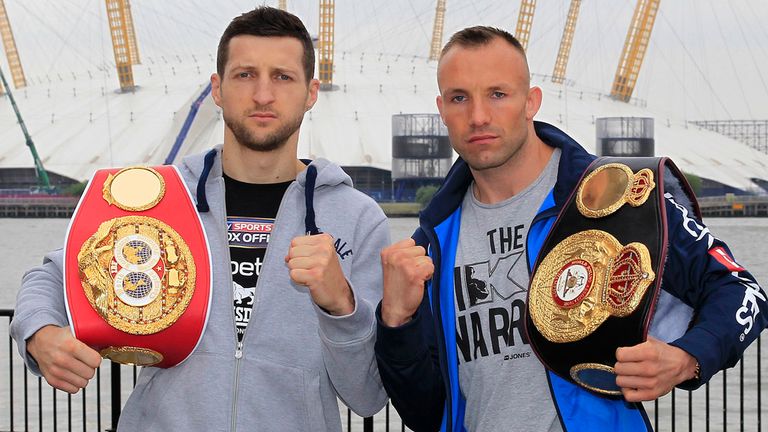 In a matter of hours Carl Froch and Mikkel Kessler will be going toe-to-toe at the sold-out O2 Arena and you can watch it on Sky Sports Box Office.
Carl Froch and Mikkel Kessler will be going toe-to-toe again for the second time in a matter of hours. The O2 Arena is sold-out but you can still book right up to fight time on Sky Sports Box Office.
The ringwalks for the main even begin at 11.15pm, so you can watch the Champions League final before waiting to see if Froch can avenge his deat when the pair meet in Copenhagen three years ago.
There was little to choose between the two then and the same is expected. It was a brawl, both fighters gave it their all for 12 gruesome rounds - and the world champions are expecting another classic.
Kessler is looking for a repeat. Froch is after redemption.
MIKKEL KESSLERY:
"You can expect to see a top shape fighter. I've done everything right, I've ate right, I've slept right, I've trained every day, two times a day. I've done everything I can. I'm here and I know I'm going to win."
CARL FROCH:
"They're going to see the best of Car Froch that's for sure. This is a rematch for redemption. So you can imagine how fired up I will be when I get into that ring. It's going to be electric."
Froch-Kessler II is the main event of the night but don't forger that both George Groves and Tony Bellew both hope they are just one fight away from their own world title tilts.
David Haye is in the Sky Sports Box Office studio, while a celebrity list including Wayne Rooney, Andy Murray and Rory McIlroy will be ringside.
Will it be Kessler and a repeat, or Froch and redemption?
You can follow it here with our live blog, including pictures, comments and updates right here on www.skysports.com/froch.