Carl Froch says he has up to four more big fights left
Carl Froch believes he has four more major fights left in his career, following his victory over Mikkel Kessler.
Last Updated: 30/05/13 9:33pm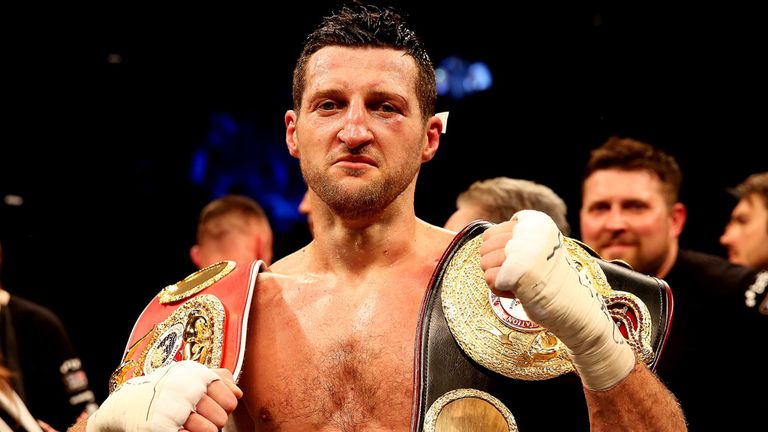 Froch avenged the first of his two career defeats at the O2 with a unanimous points decision in front of 19,000 fans.
Now, at the age of 35, Froch believes he has up to four top-level fights left in the tank, with a chance to avenge his other defeat to Andre Ward top of his list.
Ward - who was ringside at the O2 - says he is open to a rematch and although he wants Froch to come the United States again, he hinted he might be prepared to fight at Wembley.
A decider against Kessler and a showdown with Bernard Hopkins are also possibilities, while British rival George Groves is keen to secure a domestic showdown.
Fresh
Froch - who insists Ward must come to the UK if they are to meet again - insists there is time left to take care of all options.
"I don't drink alcohol, I don't smoke, eat silly food or go up in weight," he said.
"At 35 I feel fresh and while I get hit with the odd shot, I don't get beaten up or knocked out.
"I don't take many shots so I believe my career will be as long as I want it to be.
"As long as I still have the desire to get up and do the hard work, I'll be able to keep going. Maybe two or three years - two, three or even four more top level fights.
"It's been a long, hard road and if someone said to me we'll go back 10 years and do it again, I'd say 'I'll get a job, I'll be a bricklayer'. I like being on site.
"But it's been great, I've enjoyed every fight. I do love the training and I still have the desire. There's more out there for me and I'm going to relish it."