Carl Froch impressed but Andre Ward has nothing to prove, says Jim Watt
Carl Froch has the world titles but Andre Ward holds the cards and has nothing to prove, says Jim Watt.
Last Updated: 10/09/13 10:48am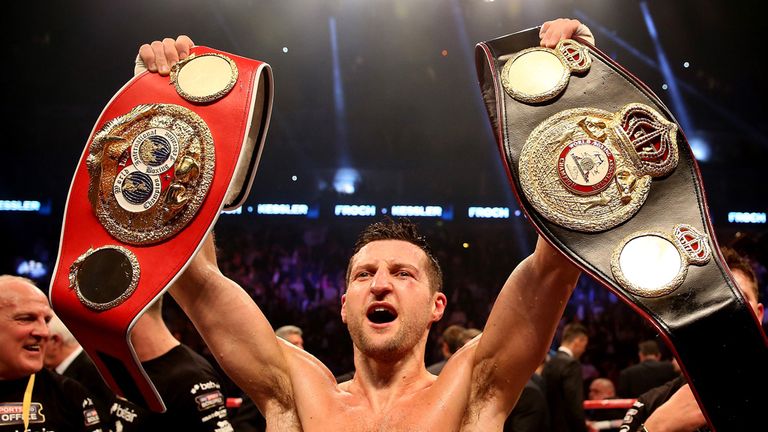 Carl Froch's highly anticipated clash with Mikkel Kessler surpassed expectations, capping a fine show at the O2 Arena on Saturday night.
It's unusual for rematches to be better than the first meeting, especially when the first fight was a tough one; quite often neither man wants to go into the trenches like before. But this was different.
Froch lost the first fight fair and square after starting slowly and trying to conserve energy for a strong finish. This time, with home advantage on his side, he rectified that mistake and set a fast pace from the first bell.
Straight away Froch was causing Kessler problems with his jab. I've always said Froch's boxing skills are underrated and Kessler couldn't do anything in those opening rounds.
The Dane was looking a shadow of his former self at that point but credit to him for stepping up his game, tweaking his tactics and landing some big blows.
However, in the second half of the fight Froch's strength and commitment put him in the driving seat. He was hurt in the 11th but came back again and I thought the referee was on the brink of stepping in when Kessler was on the ropes.
Kessler's experience got him out of that situation but he rightly lost on points and you can't fault anything Froch did; his tactics, what he put into it and the pace he set all the way through the fight was bang on.
Since the pair's first meeting Froch has become a much better boxer.
That's not to say Kessler has gone backwards, but Froch, having gone through the Super Six and beaten Lucien Bute, is far more confident than he was in 2010. And he proved on Saturday night who the better fighter is out of him and Kessler.
For that reason, I don't think there is any need for a third instalment. Kessler may look back on the fight, see some mistakes and talk himself into a decider, but I wouldn't be surprised if he opted to retire.
Challenge
That would leave Froch on course for a return with the only other man to have blemished his record, Andre Ward.
The American was ringside on Saturday and is the only big fight left for Carl at super-middleweight.
I can't see Froch stepping up in weight - he's comfortable at super-middleweight - so that is THE fight, if Carl is still looking for challenges.
However, I don't see why Ward should have to come to Britain to make that fight, as Froch has suggested.
Ward is the man. He's already beaten Froch clearly (despite how some of the judges scored their fight), he won the Super Six without coming close to being beaten and he's considering stepping up to light-heavyweight. He's got nothing to prove - and he doesn't need Froch.
Froch wants to wipe out that loss and if he could do that it would be huge, but I don't think Froch is giving Ward enough credit for what he did in their first fight.
If Froch watches the tape back again he'll see Ward took the fight to him, pushed him back and bullied him on the inside. Ward isn't a 'Fancy Dan' who doesn't want to get involved and he's just beaten Chad Dawson.
Yes, their first fight was in America, but that was in the final of the Super Six and the venue had been arranged before the tournament.
This time Carl's calling Ward out - and if he wants to take him on he may have to get on a plane to do so.