Home sweet home
Our experts assess where Froch v Kessler could be won and lost
Last Updated: 23/05/13 6:12pm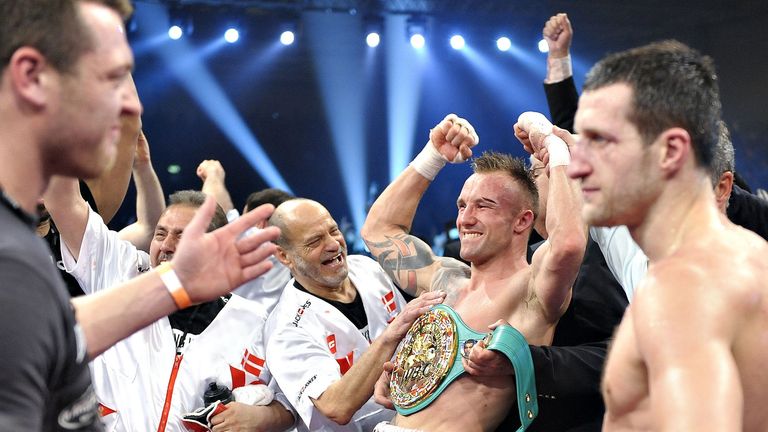 The fight is taking place at London's O2 Arena and there will be a huge number of Carl Froch supporters in the venue. But how much of a factor will that be on the night?
Richie Woodhall:
This is still a 50-50 fight but Kessler is now coming into the lion's den. He's going to get hit by Froch and every time he does get hit, the crowd are going to go mad - just like they did in Denmark when it was the other way round. The crowd played a massive part in that fight because there were a lot of rounds that were tight, but Kessler times his finishes perfectly and in those last 30 seconds he ups his game and then the crowd lifts him and the noise goes up - and that is the last thing judges remember when they're scoring a round.
It is going to be totally different this time for Kessler and if anything he is going to be tested more. He has to find a way to deal with it because he is going up against a very good fighter and a very ferocious crowd. Now we will really find out how he fights, because he is taking this all on in Froch's backyard.
Don't forget, when he lost to Joe Calzaghe in Cardiff, he tailed off in the second half of the fight and I am sure the crowd got to him then. I thought Joe won convincingly towards the end - and the same thing might well happen here. We all know the fair play has to prevail in all fights and we all know, it's an un-written rule the crowd play a part in the judging. It does sway the judges and, when Froch lands a hard blow, those 20,000 mad, passionate Brits are going to make sure the judges know it.
Glenn McCrory:
I don't think it is that massive, actually Richie. Kessler's mum is English for a start! But they also know each other inside out so I am not sure there are any huge advantages.
Most people are going for Froch on points and we are all pretty sure this is going to be nip and tuck all the way but I've got to say a close decision will not be given to the 'home' fighter. This country is sickeningly straight when it comes to judging fights. We are so fair, so straight, so much more balanced than any country in the world. You have to give credit to the judges and the British Boxing Board of Control for that, and for once, I don't think the location will make a difference.
Don't get me wrong, the atmosphere will be electric but in Britain you get a fair deal. If I was Kessler, I wouldn't be scared of coming to Britain to fight. He does not have to knock Froch out to win, which you say going to most countries.
Jim Watt:
The location of the fight won't affect Kessler's approach but I had most of my world title fights in Glasgow and what I found was that in the later stages of a hard fight, with the crowd behind you, screaming your every move, that's when it lifts you. It can have an adverse effect in the early stages when you worry about losing in front of your fans and you can be a little tight early on, but it's a big plus to be fighting at home.
Johnny Nelson:
Fighting away from home can make or break certain fighters - but with Kessler, I don't think it will make too much difference. Some fighters, when they're getting booed and jeered they get intimidated, others feed off it - I know I did. Will Kessler feed off it? We don't know yet. But I think he's mentally strong enough to focus on the fight.
This bout has been described as 'the fight of the decade' by Eddie Hearn. But what has been Kessler and Froch's most impressive performance so far in their career?
Johnny Nelson:
I'd say Kessler's best display so far was against Carl. When they talk about Kessler in Denmark, they talk about that fight. He showed so much in that fight. For Carl, I'd say his best performance was against Lucien Bute. Hand on heart, I didn't expect Carl to win that one but he was very impressive.
Jim Watt:
Yes, I'd have to agree with Johnny there, I don't think either fighter has done any better than those two results. But I'd also say a special time in any fighters' life is the first time he wins the world title. You think you can do it, you hope you can do it but that's the night you find out you can do it. That's a special night and I'm sure Froch looks back on his win over Jean Pascal and Kessler looks back on his win over Manny Siaca with fondness.
Johnny Nelson:
Who knows, this could be the greatest win for Froch or Kessler! It's an exciting, attractive fight which has captured the public's imagination and hopefully they'll put on a great show.
Glenn McCrory:
I do not know a British fighter who has taken on that many top-level fighters, big-named fighters, one after the other. Carl Froch is not scared of anyone. He just likes big fight after big fight - he wants the best every time, which proves he is the best British fighter around. You can tell he is a Geordie - his mum is from Blythe!
Kessler's achievements are the same. He's lost to Andre Ward and Joe Calzaghe and what can you say about either of those two. Joe is a British legend and for me, Ward is the pound-for-pound best fighter in the world today. That is the stock of Kessler's record. It's the same as Froch and I am not sure we will see careers like those two again.
Richie Woodhall:
I'm with you there, Glenn. Carl Froch's fight with Jean Pascal was a tough, tough fight but throw in Jermain Taylor, the rest of the Super Six contests and everything since, and I have to say I can't remember a British fighter that has had so many high-profile fights against top five or six ranked fighters in any division - never mind one after the other!
Froch has had it tough as well; he lost to Andre Ward of course and lost to Kessler, but he's also beaten so many big names and is on a run of great fights. His success is an accumulation of all those fights and how he has come through it. You could pick any one but I like the Arthur Abraham one because he showed a completely different side to himself there; everyone was expecting a toe-to-toe battle but he turned it round and out-boxed him from range and made Abraham miss all night long.
I wouldn't say Kessler was on a par because I can't think of another boxer who has that run of fights, but he's not far behind is he? He's never ducked anybody or side-stepped anyone.