Best of British
David Haye and Tyson Fury came face-to-face for the first time to promote their highly-anticipated heavyweight fight in Manchester on September 28.
By Adam Norman
Last Updated: 12/07/13 9:35am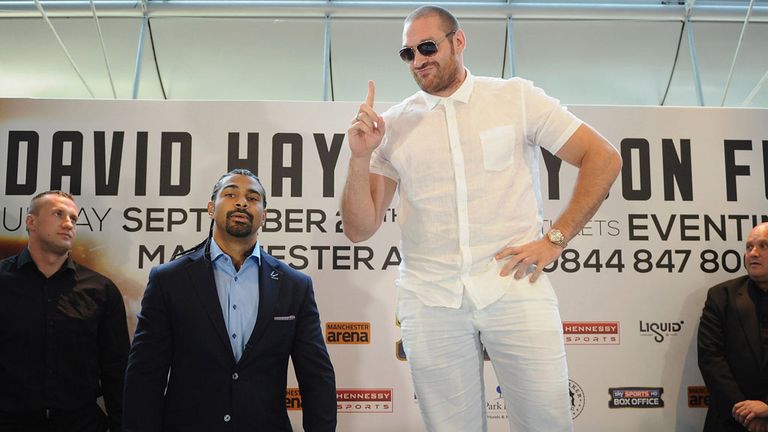 When David Haye takes on Tyson Fury on September 28, live on Sky Sports HD Box Office, it will be the biggest heavyweight fight on British soil since Lennox Lewis beat Frank Bruno 20 years ago.
And you will have to move to the dark side of the moon to miss the pre-fight build-up as two of boxing's brashest prepare to slug it out for our entertainment.
Fury toned down the rhetoric he normally saves for Twitter but still had plenty to say at the opening press conference.
"I'm going to train hard and I'm hoping for a fight - I'm not hard to hit and I will stand in front of you, but I land bombs if they land them," he said.
"I have got 100 per cent heart and determination that can back up what I say. Whatever he brings to the table my heart and determination can overcome and, as we know, it is a massive part in boxing.
"People might want to see Tyson Fury get knocked out because I might be the brash talker and say a lot but I have backed it up so far.
"If David can beat me then congratulations to him, he will have put me out of my misery, there will be no hard feelings at all. If I lose to the better man on the night, what can I do?
"I can only train right, eat right and sleep right and give everything I've got - if he beats me, he beats me. I can't do any more than what God has given me to do. A man can only do what a man can do but I believe what I can do will be good enough to beat not only David Haye, but the Klitschkos as well.
"I always get carried away whether it is playing football or a computer game, it is all or nothing, my emotions rule my body a lot of the time and that can be a downfall but I can't be faulted for giving everything and wanting to win so badly that it means the world to me. It isn't just a boxing match to me, it is everything."
Haye has fought both Audley Harrison and Dereck Chisora in recent years but acknowledged his clash with Fury will be much bigger than either of those proved to be.
"This fight is great for British boxing, the last few years boxing hasn't had that month-by-month coverage that one would like," he said.
"There haven't been fights out there to generate that but there is with this fight, and even my last fight against Chisora people said it was a good fight - it was praised afterwards so that helped.
"I think a fight against an unbeaten Tyson Fury will do the same thing, it will really capture the public's imagination and once he is dispatched of I think they will be very happy."
Check out our press conference gallery here.