Haye v Fury: Steve Cunningham tips old foe Tyson Fury to defeat David Haye
Steve Cunningham has backed former opponent Tyson Fury to defeat David Haye on September 28th on Sky Sports Box Office.
Last Updated: 13/09/13 12:43pm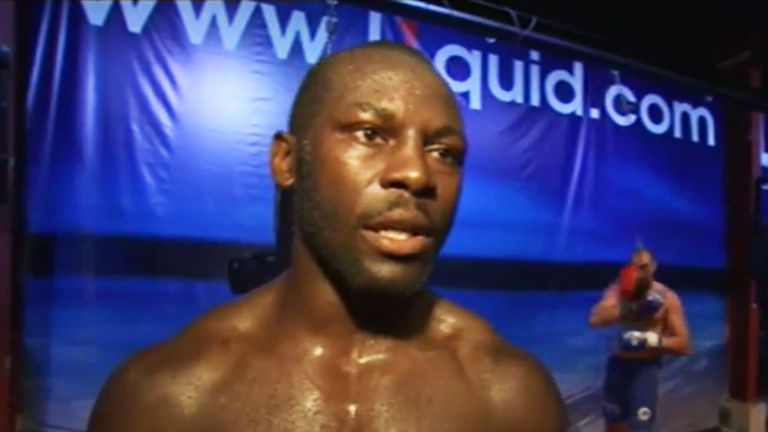 Fury and Cunningham exchanged heated words ahead of their heavyweight encounter in April and the American complained of foul play after being halted by a clubbing right hook in the seventh round.
But Cunningham has surprisingly set aside this ill feeling and agreed to spar Fury ahead of his upcoming Sky Sports Box Office clash with David Haye on September 28th.
Cunningham insists there are no ulterior motives for stepping back into the ring with Fury and is now on good terms with his recent rival.
The former cruiserweight world champion said: "I know there were probably some preconceptions about why I'm here or maybe it was about me getting some payback or vice-versa you know?
Smart
"As soon as I came in as soon as I saw Tyson I hugged him, I grabbed him and told him 'Hey what's up?' and you know Peter, he's the one who got me here and he's a genius for doing so as he's a very smart trainer.
"Peter will agree that Tyson was great, you know, it took me and Tyson a couple of days and we started really talking and now we're cool, we're down to earth with each other.
"The past is the past - I don't blame him for what happened in the fight - he won the fight the best way he could, that's what you're supposed to do.
"So anything that was illegal is up to the referee and the boxing commission to fix that.
"The fighter does what he has to do to win, so there are no hard feelings at all for Team Fury, Tyson Fury - I hope him the best and I believe he's going to beat Haye.
"No doubt, and I can say that because I fought the guy and I see his training camp, so I can go a little bit more than may the best man win, I believe Tyson's going to win."
Cunningham floored Fury heavily in the second round and appeared to be a few punches from victory before the Wilmslow man fought back to force the stoppage.
No animosity
The Philadelphia fighter has been trying to prevent Fury from suffering a similar scare against Haye and believes he is learning fast in sparring.
"So I'm here and now in camp with Tyson and the animosity that's dead and gone - I'm cheering him on while he's sparring the other guys - I'm telling him jab and do this, you're looking good you know that's pretty funny right there," said the 37-year-old.
"I'm not here for Steve Cunningham to try to beat up on Team Fury and to make another fight and to get back - I'm here to help him get ready for David Haye and you know that's what happens.
"I've been in the camps before, and the guys that help me I do the same thing for them in their fight, it's like a family thing, so I'm part of Team Fury and I'm helping them on.
"It's a great atmosphere, everybody here is pretty cool together, it's a fun atmosphere, you know Tyson's a joker - we crack jokes, we have fun but we go to work too which is the most important, but we do have fun with what we do."
Fury has preserved his 21-fight unbeaten record with some battling performances and will face his sternest test in the form of the experienced Haye.
Cunningham admits Haye might force Fury to change his pre-fight tactics, but remains confident he will again find a way to win.
He said: "I believe he can beat Haye either way, points or knockout, but that depends on how things go.
"You know me being a professional fighter, I know things can go on in a fight that make you deviate a bit or change up or do something different, so I just got Fury to win this fight - so we will see how though, that's the great fight."