Have v Fury: Tyson Fury's trainer expects him to rule top division
Tyson Fury's trainer backs his fighter to become Britain's next world heavyweight champion if he defeats David Haye.
By Richard Damerell
Last Updated: 13/09/13 8:30am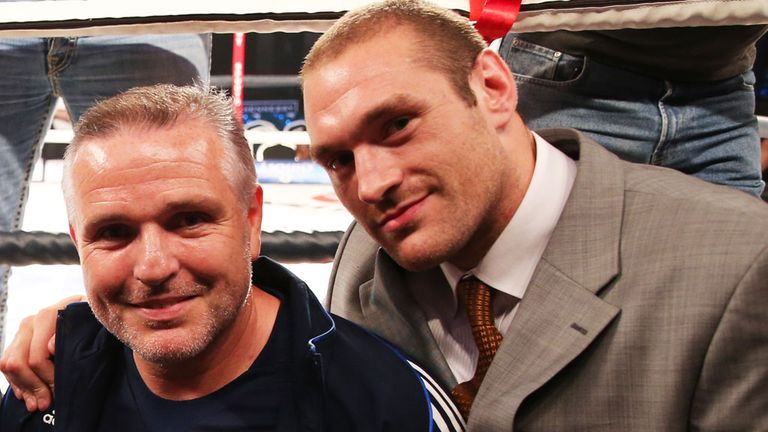 Fury will battle Haye on September 28th, live on Sky Sports Box Office, with the winner expected to land a world title shot.
Haye has questioned whether the 25-year-old is ready to pit his skills against a former two-weight world champion, but Fury's trainer has complete faith in his boxing ability.
Peter Fury has moulded his nephew into a genuine contender and believes past performances have shown he is ready for the big names in the division.
When asked if the Haye fight had come too soon, he told Skysports.com: "I definitely don't think so.
"Kevin Johnson fought Vitali Klitschko. Vitali was in his prime then and he went the full 12 rounds with Kevin Johnson, and look what Tyson did to him. I'm quite happy with the situation.
"Tyson belongs up there with Wladimir Klitschko. It doesn't really matter what public opinion says, I go with what I believe myself.
"Tyson belongs up there with the very best. He's up on that level, experience levels and everything else.
"Tyson's had 21 fights and he's not had 21 easy fights either, so he's learned his trade properly. He's been in rough times, he's been in good times so this is a heavyweight who has been hit back, got off the floor, knows what it's about when he makes mistakes, how fatal it can be.
"You've got a heavyweight who is very clever and switched on and mature for such a young age at 25 and also having that amount of fights. Does he go up then mentally and physically, he definitely does, so that's why I'm excited about the 28th."
Exciting
Peter Fury is full of respect for Haye's accomplishments, but feels it is time for his family name to make headlines.
Wladimir and Vitali Klitschko currently hold all the world titles, but he is predicting the start of a new era in the top division.
"Look Haye's a world class fighter, anything can happen on the night, but I've got total belief in my nephew to do a very good job," he said.
"I see him unifying all the belts, I see him beating Wladimir as well. These are bold statements at the moment, but take it from me, people will see what I'm saying."
Exciting American Deontay Wilder and former world title challenger Marius Wach have been assisting Haye with his sparring as he prepares for the 6'9" tall Fury.
Peter Fury insists his unbeaten pupil will be a totally different proposition on fight night and expects Haye to be dragged out of his comfort zone.
"He's got plenty of sparring for Tyson's size and he'll be able to find his range not too difficult because he's been working constantly on it," said Fury. "But ultimately no sparring partners that they've got in their camp is remotely like Tyson.
"I think there are going to be a few surprises and a few difficult patches for Haye to work out."