Dereck Chisora is hungry for a rematch with Tyson Fury or David Haye
Dereck Chisora has hinted he would like another crack at Tyson Fury or David Haye after they fight on September 28.
By Dev Trehan
Last Updated: 16/09/13 10:57am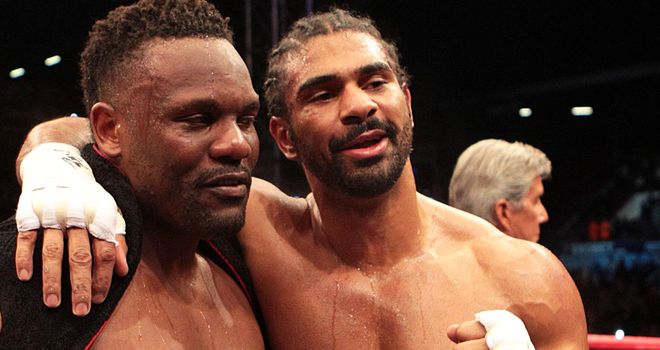 The Finchley fighter lost a points decision to Fury in 2011 before suffering a fifth round knockout against former world champion Haye in 2012.
But Chisora insists there is more to come from him after playing down suggestions he might be in line to challenge for the world title against one of the Klitschko brothers in the near future.
"To be honest with you, and people shouldn't take this the wrong way, but I think there are better fights in Great Britain than us going to challenge for the world title," he said.
"There's a good mix with Tyson Fury, David Haye and myself. It's alright boxing for the world title and everybody just trying to go and dance with the K2 promotions music.
"Let's do our own thing and when they're ready to give up the titles then people can fight for those world titles. Fighters are making money when they're not in world title fights.
"Why should I say I want to box for a world title when the Klitschkos are trying to slave you for the world titles you're fighting for.
"I don't like those guys the more I talk about them the more I get upset."
Tired
Chisora refused to be drawn on the outcome of the Haye v Fury fight but admitted he is eagerly anticipating the all-British heavyweight contest.
"It will be a great fight for the British public and I can't wait to watch it," he said. "If Tyson boxes and keeps David away by boxing and boxing him he could win the fight but he'll get tired in the later rounds and he could get clipped.
"If Tyson goes in there and mixes it up he's going to get knocked out. I'll put it as a drawn fight if no-one gets knocked out."
Chisora could have the European title as a bargaining chip for a big domestic clash as he fights for the vacant strap on Saturday against Germany's Edmund Gerber.