Haye v Fury: John McDermott hopes former rival Tyson Fury can upset David Haye
John McDermott says he was cruelly denied a win over Tyson Fury, but wants him to beat David Haye.
By Richard Damerell
Last Updated: 19/09/13 7:03pm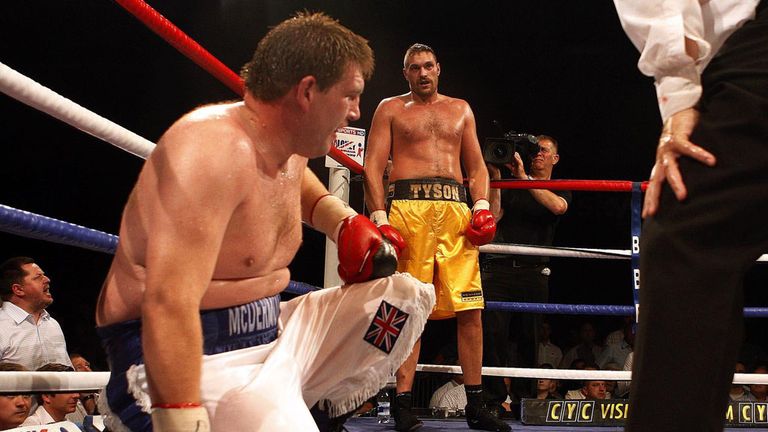 Fury faced the battle hardened McDermott in only his seventh heavyweight fight and escaped with a hotly disputed points win at the Brentwood Centre in September 2009.
The unbeaten 25-year-old now stands on the brink of his Sky Sports Box Office clash against Haye, on September 28th, but McDermott feels Fury should have suffered an early setback.
In the latter stages of a draining fight, McDermott dug deep while his young opponent appeared to wilt, but referee Terry O'Connor did not acknowledge his efforts, scoring a 98-92 win to Fury which was greeted with disbelief at ringside.
Promoter Frank Maloney suffered heart problems amid angry scenes in the aftermath and McDermott remains certain he did enough to dent Fury's unblemished record.
"I really do think I won it. Everybody thought I won it," McDermott told skysports.com.
"He was a seven fight novice and I had 30 fights at the time.
"I thought I had too much for him, but he just had the bottle to keep on going. I still thought I won, but I had a massive amount of respect for him as a fighter for doing what he did.
"I just think they all underestimated me.
"They thought I was like any good fighter he had fought. They thought he was the greatest thing since sliced bread. I think then he wasn't, but he has improved massively."
Outcry
When the final bell rang, McDermott was left stunned by O'Connor's verdict, saying afterwards: 'I'm a nice man. What did I do wrong?'
Reflecting on the end of the fight, he said: "My first three fights before that were all done by the judges. I didn't even think to look at the referee's hand, thinking it was the judges that would be doing it.
"They put his hand up. I didn't think anything of it until I got back to the corner. I couldn't believe it."
The contentious result prompted a huge outcry for a rematch and Fury set the record straight with a stoppage win in another gruelling battle, nine months later.
McDermott admits he was hampered by illness, but gives full credit to Fury for using all his attributes as a 6'9" tall fighter.
"What he did in the second fight, he made more of his size," said the 33-year-old.
"He's six inches taller than me and every time I tried to get inside he grabbed me. I can't blame him because if I was that size I would do the same thing.
"He's got a decent jab. Tyson Fury is a very strong guy."
Fury has since made great strides towards a world title shot with some notable wins, but first he must get past Haye.
McDermott finds it hard to separate the two dangerous punchers, but is certain that fight fans will be treated to a thrilling contest.
When asked about the outcome, McDermott said: "You just don't know. I do believe that David Haye can punch and Tyson Fury can get hit.
"David Haye is probably one of the biggest punchers that Tyson Fury has boxed, but he hasn't got the greatest chin in the world and Fury can punch, so it's a 50-50 fight.
"One day I'll sway towards David because he can hit him with the same shot Fury got put down with in his last fight.
"Other times, you are thinking Fury can use his size, lean on Haye, we all know Haye doesn't go over the distance fantastically, and could wear him down and stop him.
"Someone is getting knocked out definitely. I can assure you this fight will not go the distance."
Respect
McDermott was angered by Fury's taunts before their first fight, but they now share a mutual respect after two titanic struggles.
The Essex man, who also has links to the travelling community, admits he will be cheering on Fury in his grudge match with Haye.
"Of course I would, why not?", he said.
"That's boxing for you. He slagged me off the first time, then you have such a fight with someone, you have respect for them.
"I have spoken to Tyson since, we have met up, we've sparred together, we've been out to dinner so I think he's a nice bloke.
"I'd like to see him win, of course I would."