Haye v Fury: Michael Sprott praises Fury's dedication
Michael Sprott says Tyson Fury is fitter and more focused than ever after helping him prepare for David Haye.
By Richard Damerell
Last Updated: 15/09/13 5:13pm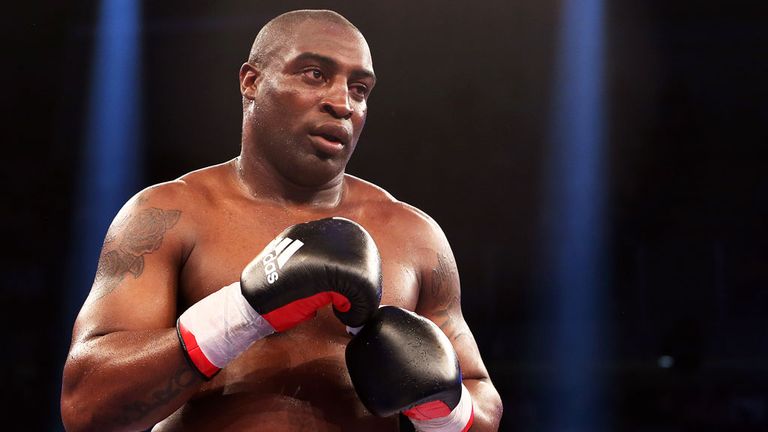 The unbeaten Fury will be in touching distance of a world title if he defeats Haye on September 28, live on Sky Sports Box Office.
Fury admits he lacked dedication early in his career, but has undergone a stringent training regime ahead of this crucial heavyweight clash.
Sprott, a former British champion, has sparred with Fury in the past few weeks and spoke of his hunger for hard graft during the training camp in Belgium.
"Yeah it was intense training, he was putting the work in. He wasn't cutting nothing out," he told skysports.com.
"He's serious about how he trains, what time he trains. He was training like a professional. He was taking it all very seriously.
"He was sharp, he was getting better by the day. He's got very long arms, he's quite awkward and you had to try to get inside.
"Trying to box him from a distance, you're not going to do it when the man has got a reach like Tyson Fury.
"He said in an interview, for the first 10, maybe 15, fights he wasn't taking it seriously, but he was winning.
"For his last five or six fights he has come on, you can see a vast improvement because obviously he is taking it seriously.
"He's taking his food intake seriously, supplements, training, sleeping. He's doing everything properly and you see the results in his last couple of fights. He has definitely improved from what he used to be."
Discipline
Fury appears more disciplined inside and outside the ring since asking his Uncle Peter to take over training duties.
Peter was absent due to visa issues when Fury engaged in a wild shootout with Steve Cunningham in April and Sprott admits he plays a crucial role.
When asked about Peter Fury, Sprott said: "A hard man. He's a good trainer, he don't take no rubbish at all.
"If you're serious about boxing and you are serious about a fight, he will put you through your paces. He doesn't mess about at all, he's proper strict.
"He holds Tyson together. Tyson listens to what he says. He plays a big part for Tyson Fury."
Imposing
Fury, at 6'9" tall, is one of the biggest fighters in boxing and Sprott believes his huge frame makes him an imposing force.
Haye's cagey tactics paid off when he snatched the WBA title from Nikolay Valuev, who is of similar stature, but Sprott feels Fury may pose different problems.
"He does put his punches together better than what he did before and he's improving all the time," said the Reading man.
"He's young and he's hungry. He's willing to learn and try different things.
"I think his strength is his size. He's a big man, he's 6'9". At the moment he's got the longest reach in boxing.
"David Haye managed to cope with Valuev, but they have different styles and I mean Tyson Fury's younger. Tyson is still developing.
"It's hard to say. He's quick David Haye. When he boxed Valuev, he was slipping a lot of his shots very quickly. I don't think it's something he cannot deal with, but Fury's a lot quicker than Valuev."
Drama
Sprott has also sparred Haye earlier in the Londoner's career and admits his searing handspeed is one of his main attributes.
Both men have demolished opponents in explosive fashion and Sprott expects the pair to produce a dramatic knockout.
"David Haye, his speed's phenomenal. He's very quick and he's a puncher," he said.
"Fury can punch as well, but Haye is very quick, he's got very good fast twitch muscles.
"Fury is a big puncher. I sparred David Haye when he was a cruiserweight and he was punching like a heavyweight then, so who knows what he's punching like now.
"They are both going to go for it. It could be a case of whoever lands first. I don't think it will go the distance at all, I cannot see it.
"Fury has been down, he has got back up and won the fight. He has done that a few times. You just don't know.
"I think it's 50-50 and I cannot see the fight going 12 rounds. I might be wrong. I can't see it. I think there will a stoppage around the sixth round, I reckon. "