Six of the best fights in Tyson Fury's career
Tyson Fury has won all 21 fights so far, knocking out 15 of them and being floored as well. David Haye is next in his sights but Fury has already taken some big-name scalps in the heavyweight division. We chose our six of the best... see if you agree!
Last Updated: 17/09/13 4:15pm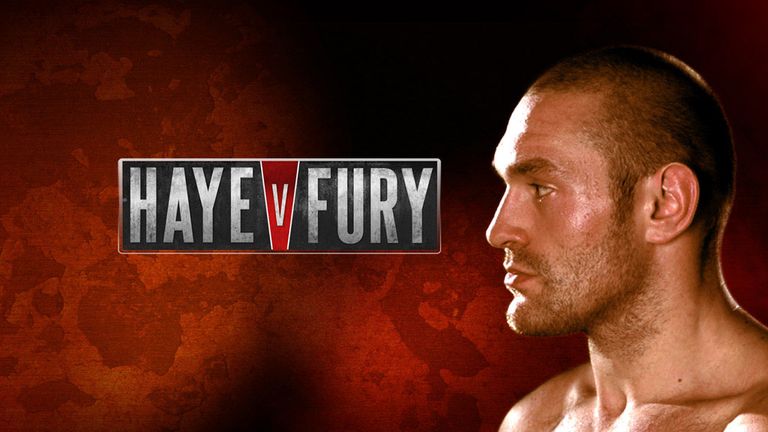 Fury's biggest test, and therefore his biggest win, came on his America debut earlier this year when he fought the former IBF cruiserweight champion in New York's Madison Square Garden.
Cunningham, having lost three of his last four and rising 37, was past his best but held plenty of experience to put the Britain's title credentials to the test in what amounted to an IBF eliminator.
Fury immediately set out to bully the much smaller man, shoving him after the bell to end the first round. And his mind was clearly still not on the job when Cunningham winged a right hand over the top at the start of the second, putting Fury on his backside.
But he fought back well, landing plenty of telling blows and becoming increasingly dominant as he swarmed all over his opponent, who was finding Fury's size hard to handle. The end came in the seventh, a hurtful shot to the body and an upper cut forcing Cunningham to retreat to ropes, where Fury finished it with a swiping right hook, with the aid of a left forearm.
Kevin Johnson - W UD12
A one-time title challenger, 'Kingpin' Johnson was Fury's first experience of quality international competition, even if the notoriously lazy American had little left to offer.
The fight was also a WBC eliminator reflecting how far the Briton had come in a short time. And, against his natural instincts to put on a show, Fury exhibited a different side to his nature.
Faced with a defence-first opponent, Fury took his time and the first half of the fight passed without any drama as the youngster looked to pick his moments to attack.
The stoppage was not forthcoming, but Fury's work-rate and well-timed attacks meant he was well ahead on each of the judges' scorecards.
Dereck Chisora - W UD12
Fury was the English champion but it wasn't long before he was fighting for higher domestic honours, against British and Commonwealth champion Chisora.
Fury had by his 15th fight becoming more dedicated to his art, an accusation which could not be levelled at his opponent, who was having a difficult time out of the ring and ballooning in weight as a result.
As a result Chisora came at just the right time for Fury, although the fight started brightly with both having their successes - Fury wobbled in the second round although it was still in the balance at halfway.
However, Chisora's conditioning came back to haunt him as Fury's heavy shots left him looking weary, and, aside from a brave rally in the 10th, the second half belonged to Fury who took a landslide points win.
Martin Rogan - W TKO5
Irish cabbie Rogan had won Prizefighter, and the Commonwealth title, in previous years but was already the wrong side of 40 when he clashed with Fury for the vacant Irish title.
The plucky veteran had the crowd on his side in his hometown of Belfast, but was a sitting duck. Fury, who had switch-hit in the past, fought the entire contest in a southpaw stance, although initially it didn't faze 'Rogie'.
A short fight suited the older man and he looked to brawl early on, unsettling Fury's rhythm as he took it into the trenches.
But Fury bided his time, found his range in the third and floored Rogan with a straight left hand. He survived to the bell and came out bravely in the next but Fury was by now landing with ease and it was over in the fifth, a body shot sending Rogan to the canvas for good.
Neven Pajkic - W UD8
As British and Commonwealth champion Fury had several routes available to him and the next choice of opponent was unbeaten Canadian Pajkic, who had an unbeaten if padded record.
He wasn't expected to cause many problems for Fury in his 17th professional contest but the Briton found himself on the floor for the first time in his career in the second round.
The low left hand, a feature of Fury's stance, makes him open to the big right hand and for the first time an opponent was able to take advantage.
But Tyson wasn't shaken, and after his head had cleared made the Canadian pay for his derring-do by flattening him twice in the third round before the fight was called off.
John McDermott II - W TKO9
Fury and McDermott met for the first time when the former had fought only seven times, for the English belt. Who is to say why referee Terry O'Connor gave the win to Fury when the vast majority felt 'Big John' had done more than enough over 10 rounds.
A rematch had to happen, and it took place nine months later, but with a very different outcome. With improving at a rate of knots, McDermott couldn't live with him.
Both men struggled with the heat, but it was Fury's superior fitness and heavier shots that made the difference in the end.
McDermott had his moments, Fury had a point docked for holding, but the taller man dropped his foe at the end of the eighth with a fine combination and two more knockdowns at the start of the ninth brought about an abrupt end.
So fight fans, do you agree? Let us know which of Tyson Fury's fights are YOUR favourites! Just add your comment below... and keep it clean folk!