'What better inspiration than Floyd'
David Haye has a heavyweight clash coming up but like any other Floyd Mayweather fan, he took tuned in.
By David Haye
Last Updated: 17/09/13 12:35pm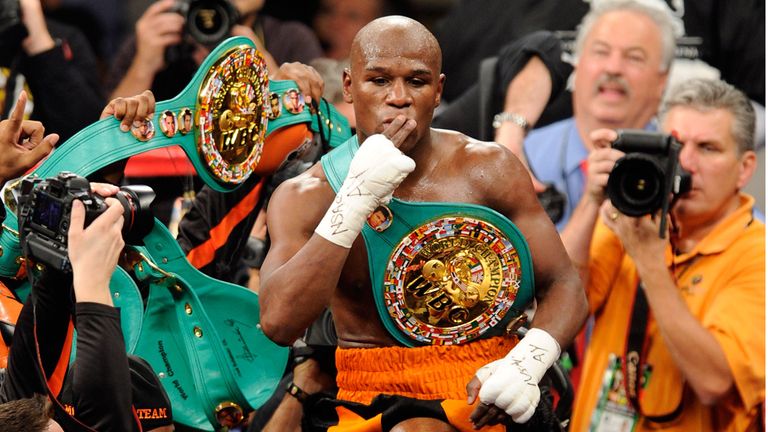 If its inspiration you need before a fight, look no further than the mighty Floyd 'Money' Mayweather. I've been a fan of his for years now, and was once against left astonished by what he produced on Saturday night against the dangerous and talented Saul 'Canelo' Alvarez.
It was tough staying up until gone 6am to watch it, but, boy, was it worth it. Even at 36, Mayweather shows no signs of slowing down or going backwards. He is just as brilliant now, if not better, than he was when breaking through as a super-featherweight in the mid-nineties.
It was amazing to me that so many so-called experts backed Alvarez to beat him. While a very good fighter in his own right, Alvarez had shown no signs that he could live with a genius like Mayweather. And so it proved. The ginger Mexican didn't disgrace himself, though, and put up a great effort - just not one good enough to beat Mayweather anytime soon.
Impressive
Last year I remember watching Floyd live against Miguel Cotto - sat just metres from ringside - and that, to me, was the moment he went from being great to a genius. Of course, I always knew he was a one-of-a-kind talent, and pretty much unbeatable, but it was only being up close and seeing him in the flesh that made me realise just how ridiculously gifted he is.
He is unquestionably the most impressive fighter I've ever seen compete live. No other active fighter has a better grasp of angles, timing, distance and defence. He could make an opponent miss punches all night if he wanted to. And no amount of effort is going to change that fact. Canelo offered plenty of effort and heart on Saturday, but it was nowhere near enough.
Now the big question is, what's next? For me, nobody comes close to Mayweather right now and I'm fairly certain he'll retire undefeated. But, for the time being, he needs opponents and he needs someone who can bring some kind of excitement to the fight. After all, if there's one knock people have against Mayweather it's that he doesn't exactly put you on the edge of your seat. You know what you're going to get with him - pure perfection, but no drama.
The thing is, though, if someone like Alvarez - bigger, stronger, younger - couldn't make things interesting against Mayweather, who can? I certainly don't see anybody out there capable of giving him a tough test, let alone beating him.
You'd have to stick guys like Manny Pacquiao, Danny Garcia and Amir Khan into a blender, mix together their best assets, and even then the finished article would probably lose on points. How do you defeat perfection?
David Haye
AKA 'The Hayemaker'