Andy Lee hopes for U-turn from Adam Booth and George Groves
Andy Lee hopes his trainer Adam Booth and George Groves can still patch up their differences after their shock split.
By Richard Damerell
Last Updated: 21/09/13 10:55am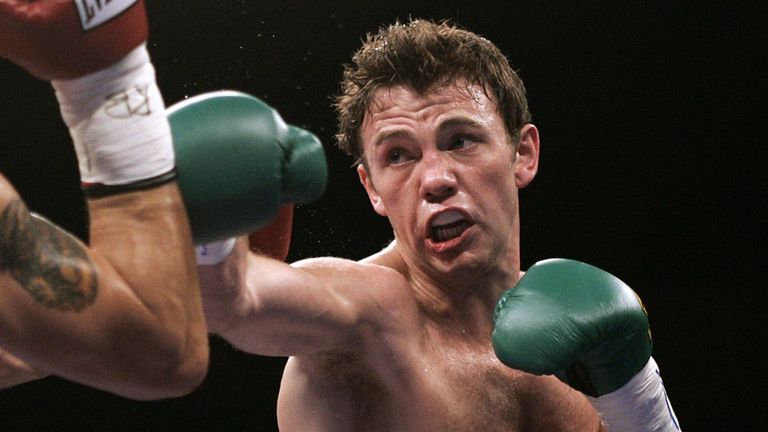 Groves is just a few weeks away from his world title challenge against Carl Froch, live on Sky Sports Box Office, but his preparations have been thrown into disarray by the departure of Booth.
The pair had forged a successful partnership since Groves turned professional and no reasons have been given after they surprisingly parted company.
Lee has been training alongside Groves in the Hayemaker camp ahead of his fight with Domenico Spada on September 28.
The Irish middleweight insists Groves had appeared in good spirits and he was left stunned by their sudden fallout.
"I had absolutely no idea. He was training, he was happy, we worked out and everyday he has been training consistently in the gym with us," Lee told Sky Sports.
"Everybody seemed to be getting on. I was as surprised as everybody else."
Lee worked with legendary American trainer Emanuel Steward before his tragic death and admits there are regular rows in training camps.
He remains optimistic that Groves and Booth can heal their rift once the trainer has finished working with stablemate David Haye.
Lee said: "I'm sure hopefully something can be done to sort it out. Obviously they have worked so many years together and they know each other so well.
"Relationships like that are always difficult between trainers and fighters, especially when you are so close. I know I had similar things with Emanuel Steward myself.
"It's a difficult relationship, especially with someone like Adam and George.
"They have a relationship as friends, it's like father and son and it's also trainer and manager, which is a business partnership. There are so many other things that come into it and there are so many blurred lines that get crossed.
"Throughout history every trainer and fighter has issues and the only bad thing about this is it became public knowledge, but hopefully they can work it out in the next week or so."
Lee linked up with Booth last year and has been welcomed into the tight-knit Hayemaker stable.
He recognises the close bond between fighters and coaching staff and hopes Groves will be welcomed back with open arms.
"That's been the really bad thing about this," he said. "We all really care for each other.
"They are all really close, the people that work for Hayemaker and we are like a close knit family in a way and like families have arguments, I'm sure they can work it out. I'm optimistic anyway."