Tyson Fury hopes David Haye will stand and fight next month
Tyson Fury insists he would welcome a toe-to-toe battle with David Haye on September 28th.
Last Updated: 02/09/13 4:28pm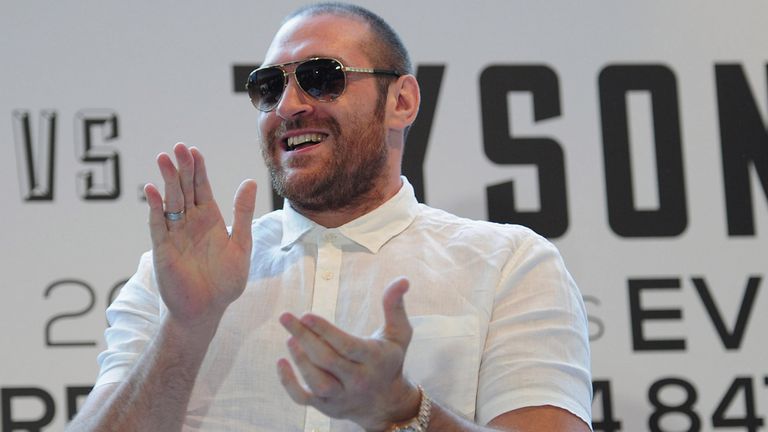 Haye boasts a fearsome knockout record and has vowed to blow away bitter rival Fury in their heavyweight fight next month, live on Sky Sports Box Office.
Fury was floored heavily in a recent win over Steve Cunningham, but remains bullish about his chances of beating Haye in a brawl.
Haye often boxes off the back foot against bigger men and Fury admits he would rather stand and trade with the Londoner instead of pursuing him around the ring.
"If he comes for a fight then it's Christmas," Fury told boxrec.com.
"If he goes on the defence like he did against (Nikolay) Valuev, goes away and tries to come in with two or three shots, then it might be more difficult because I've got to walk him down and get on top of him and hit him with some hard shots, but beware of getting hit myself.
"If he wants to come for a gun slinging match from word one then that will play into my hands because I'll keep a tight defence. I ain't 40-years old and I ain't John Ruiz and I ain't Tomas Bonin, I'm Tyson Fury. I'm better than all of them.
"If he thinks he's in for an easy ride or he thinks he is going to fight someone like Ruiz again or Audley Harrison, he'll be waking up at Christmas."
Predictions
Haye is a hot favourite with the bookies and a number of pundits have picked a win for the two-weight world champion.
Fury is paying little attention to predictions and believes the fight will prove once and for all whether he is good enough to fight at the top level.
"David Haye is the betting favourite, but it's all on past performances," said the unbeaten 25-year-old. "He's been at the highest level in heavyweight boxing, he's been a world champion. It doesn't come any better than that.
"I'm yet to achieve those goals and as far as I'm concerned he's had his glory days. He's done what he's going to do and I'm just going to put him out of his misery, because this is my time to shine.
"He's had his chance, he was a world champion and he lost to (Wladimir) Klitschko and I'm going to beat him on the 28th. No matter what the bookies say, what these boxing pundits say, what these so-called experts say, I'm going to win.
"If I don't win then he's done me a big favour by beating me by knocking me out. It will put me out of my misery as well because being in these camps is not a lovely place to be and if I'm not good enough I want to be exposed right now."