George Groves thought to have split from trainer Adam Booth ahead of Carl Froch fight
George Groves splits from trainer Adam Booth ahead of his world title clash with Carl Froch, according to reports.
Last Updated: 24/10/13 2:25pm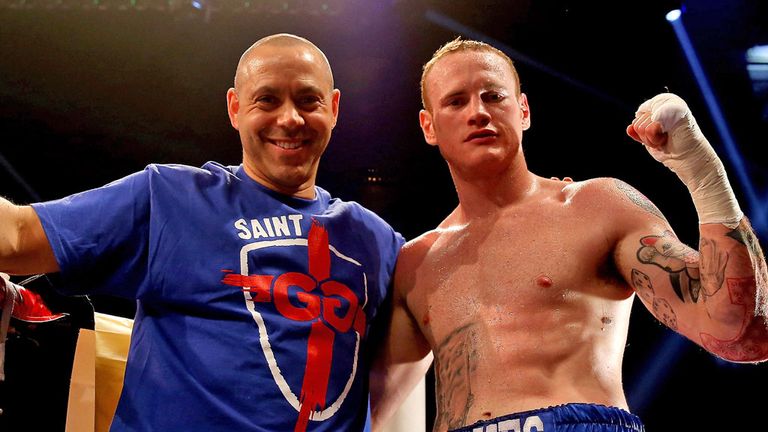 Groves is only a few months away from his world title challenge against Froch, but it is believed that Booth will not be in his corner for the Sky Sports Box Office clash on November 23.
Booth has overseen Groves' unbeaten professional career, stretching back to 2008, and plotted impressive wins over James DeGale and Glen Johnson.
The respected trainer has been helping David Haye prepare for his heavyweight fight with Tyson Fury on September 28, also on Sky Sports Box Office, but will play no part as Groves trains for his toughest fight.
Adam Smith, Head of Sky Sports boxing, said: "The word that we are hearing is that there may have been a split between George and his long-time trainer Adam Booth, which obviously is a huge piece of news if it's true, because Adam has been very tight with both George and David Haye, who's obviously 11 days away from his fight with Tyson Fury.
"The Hayemaker camp has been pretty well-knit in the past few years. Adam Booth has been a master tactician for George Groves, in the fight where he beat James DeGale for example, and it's a real tight bond that they have down in south London.
"What we're hearing is that there is a split and Adam won't really comment on it and George didn't really want to talk about it but I believe it's true, but we'll just have to wait and see. I should think we will find out for definite in the next couple of days."
Mind games
Booth has played mind games with previous opponents in the build-up to fights and Smith refused to rule out such a tactic.
But it appears that Groves must quickly add a new face to his corner ahead of his crucial fight with Froch, the WBA and IBF champion.
"It could of course be a smokescreen, there is a possibility of that. They do like their tactical games as well in that particular camp," said Smith. "Maybe they are just trying to mentally sort of unrest Carl Froch in some shape or form, but what I'm hearing is that Adam and George have split.
"Obviously George starts as the underdog against Carl Froch and many of us believe that if there is a person to provide a game plan to get the better of Carl, or certainly give George his best chance, it would be someone like Adam.
"He laid out the plan for David to defeat Nikolay Valuev, the big giant Russian. He's often gone to the drawing board and worked out ways maybe to beat a better fighter in a way. That's what happened with George and DeGale. Most people fancied DeGale and George won that night, so Adam got a lot of credit.
"George is a very good fighter in his own right. He had a stellar amateur career, he is unbeaten as a pro. He's a mature man now and if he feels like he needs to make a break.
"Adam and David have spent a lot of time together recently and maybe he needs a fresh pair of eyes, and someone different, but I've got no sense of who that may be."