'So you wanna be a kickboxer?'
David Haye starts his fight diary. But will kickboxing come into play? He thinks not, of course...
By David Haye
Last Updated: 12/09/13 5:23pm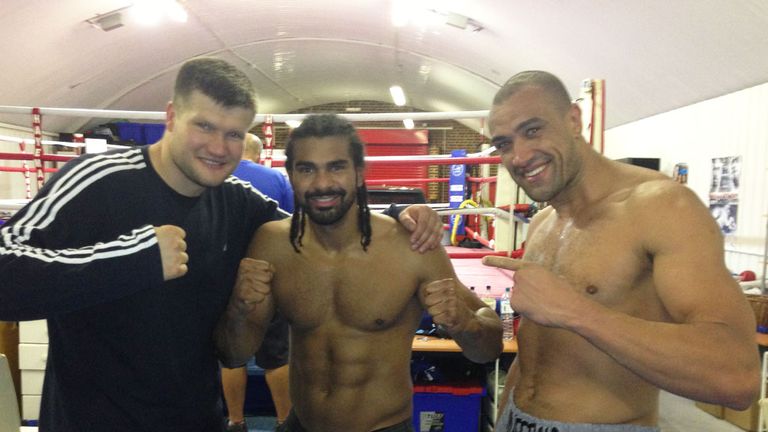 Heard the one about the uncoordinated heavyweight boxer who wanted to get his head kicked in (not the way you think!)? Well, I was told the punchline earlier this week and it was hilarious.
Tyson Fury, my next opponent, wants to get dusted off by me on September 28 in Manchester and then follow it up with a kickboxing match the following month.
A glutton for punishment, or what? If he can't avoid punches, what chance has he got against punches AND kicks? That's a recipe for disaster if ever I've heard one.
You'll be pleased to know my training camp has focused solely on boxing, and has so far been a success. I've done some good rounds with heavyweight contenders Deontay Wilder, Richard Towers, Mariusz Wach and Alexander Dimitrenko and am once again getting used to punching up at big men.
It's not as easy as it sounds, believe me. Because while there might be a lot of target to aim at, you constantly have to check your distance and range.
You also can't get away with the kind of shots you'd normally throw against men of a smaller size. These guys are big - really big - and far exceed 6'8 in height. But that's pretty much the norm in the heavyweight division these days. It really is the land of the giants.
There are giants and then there are world-class heavyweights, though. Tyson Fury, at 6ft 9in, may well be considered a giant of the division, but he's certainly no great of the game.
He has yet to even compete for a world title, let alone win one. And six years ago, when I was winning two world cruiserweight titles against Jean-Marc Mormeck in Paris, little Tyson was still learning how to throw ungainly lefts and rights at his local amateur boxing club.
That, my friends, means there is a massive gulf in class between the two of us - one that will be clear for all to see come September 28. And, by the time I'm done with him, Tyson will wish he'd forgotten this boxing malarky altogether and gone with kickboxing from day one.
David Haye
AKA 'The Hayemaker'