Great British Face-Off #9 - Steve Collins v Nigel Benn
With Chris Eubank in his place there was only one man left for Steve Collins to take care of...
Last Updated: 16/11/13 8:03pm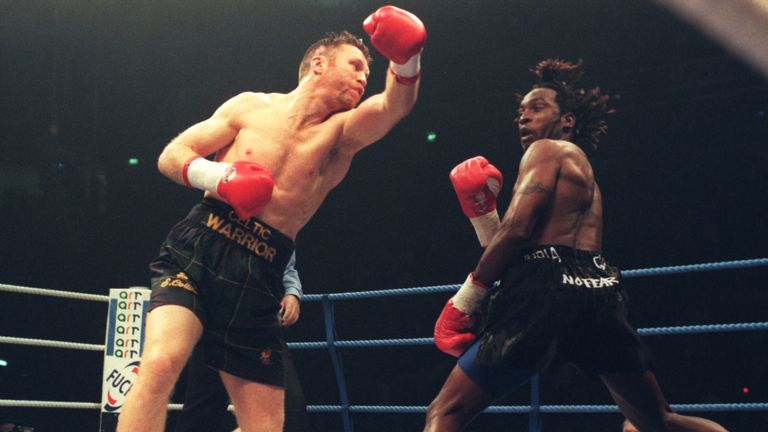 Who: Steve Collins 32-3 (WBO Champion) v Nigel Benn 42-3-1 (Challenger)
What: WBO Super-Middleweight titles
When: July 6, 1996
Where: Nynex Arena, Manchester
Won: Steve Collins won RTD 4
Who else was on
Thulani 'Suger Boy' Malinga had of course taken the WBC version off Nigel Benn up in Newcastle, but his first defence ended in disaster and Vincenzo Nardiello became the new owner. Robin Reid would become the fourth in line soon! Steve 'The Viking' Foster held off Chris Pyatt to defend his Commonwealth light-middleweight belt, while Herbie Hyde got back to winning ways after losing his world heavyweight crown to Riddick Bowe four months ago, stopping Michael Murray in six. The bad news for the Collins family came earlty on when brother Paschal's was beaten by Darren Littlewood, his first loss in 11. And there was also a change to the bigger picture as four 12-rounders (Malinga and Foster going the distance) on the card meant value for money was perhaps the winner.
What we recall
"Well the writing was on the wall because Nigel had fough in Newcastle in his previous fight against Sugarboy Malinga and lost. He proposed in the ring, he called it quits and the Dark Destoyer was kind of put to bed that night, which was never going to deal with Steve Collins. This wasn't really the sort of war they could've produce a couple of years ago. Collins just kept coming though and in the fourth he put him down but it was his ankle that had given way. I remember Benn being a bit wld early on and missing a few big shots and one of them saw it all go wrong. He got up, gave it a bit of a go, but it went again, and that was that. We thought this was the last we would see of Benn..." Glenn McCrory
"I don't think anyone was really expecting Benn to pull off a shock because he was clearly coming to the end of his career and Collins was on a roll. The result was fair and square no matter how this one ended, but I think we'd loved to see them take each other on when they were both at their peak. Now that would have been a fight! I remember watching and wondering why Benn had ended up face down almost, but he was then holding his ankle and as soon as he got up Collins should swarmed all over him and that was that." Jim Watt
What the winner said
"Thanks to Nigel Benn, thanks for giving me the chance to have this fight and have a good pay-day! He's been a great champion but the old Nigel isn't here any more, this isn't the Nigel that was around four or five years ago and we missed that chance - but we will miss that one and I want everybody to give him around of applause. Well done Nigen! " Steve Collins
What happened next
A twisted ankle floored Benn and then at ringside, having already proposed last time out, he called it a day in his post-fight interview. Chris Eubank took two Collins defeats to say he was going to retire, so Benn technically beat his rival once at least! No, Eubank didn't actually call it quits after all so neither did Benn in the end as the knee-jerk reactions faded away and the last chance saloon beckoned him in, with Collins waiting...