Great British Face-Off #1 - Eubank v Watson
Michael Watson and Chris Eubank were the first British fighters to meet for a super-middleweight world title. The vacant WBO bought the best out of both of them, but sadly the night will never be forgotten for what happened to poor Watson, who even Eubank admits, was the best by a mile...
Last Updated: 08/11/13 4:15pm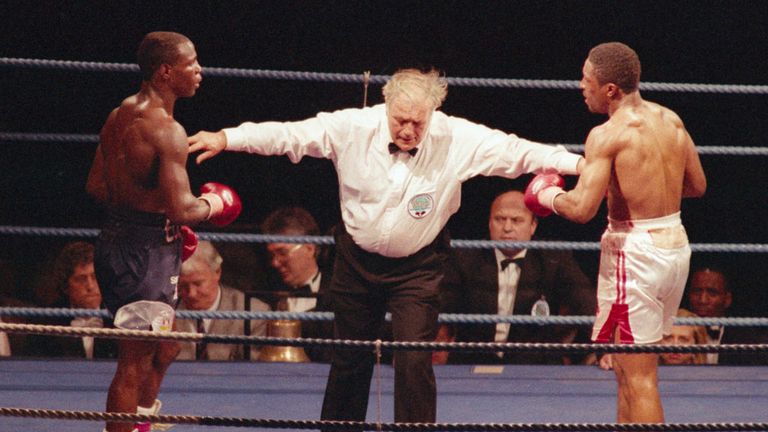 Who: Chris Eubank (28-0-0) v Michael Watson (25-3-1)
What: Vacant WBO Super-Middleweight title
When: September 21, 1991
Where: White Hart Lane, Tottenham, London
Won: Chris Eubank Won TKO12
Who else was on
A packed crowd were only there to see one thing but Northern Ireland's Eamonn Loughray racked up his 15th straight win against Glynn Rhodes - and would win a world welterweight title two years down the line. George Scott's third fight saw him stop a Gordon Webster on the undercard and not only was the winner a Swedish resident, he would end up with Angelo Dundee in his corner. Another six rounder before the big one saw Ojay Abraham make his debut; a full 17 years before he called it quits, with 100 fights on his record!
What we recall
"Chris Eubank had been to America and picked up a slight accent but he soon found his little bolthole - the classic English gentleman. I can remember Michael Watson from the amatuers - and he was the classic English boxer! There is no doubt this fight changed boxing for the best, and we all know what happened to Michael and what an inspiration he has become. The fight itself though was fantastic. Both guys went beyond where humans should go and had to dig so, so deep. Eubank was unbeaten, Watson was on the way up and unfortunately, something had to give and it was Michael. Neither of them took a backward step but then in the 11th it went up a gear. Watson's right put Eubank down for the first time in his career and I remember thinking 'that's put it in the bag'. But as soon as he gotup, Eubank's first punch put Watson down. Obviously we all know what happened next but it genuinely was a fight of such skill and such bravery. It had to be brilliant simply because the bottom line was they were world class fighters." Glenn McCrory
"Well the first thing that stuck out was only the WBO could have two guys who were moving up from middleweight, fighting for their world title. That night though, Michael Watson proved that he was the best super-middleweight fighter in the country, because he was clearly beating Eubank. He put him down and it looked like a momentary lapse in concentration and Eubank came back with a huge uppercut and we all know the devastating results. I just remember that Watson had proved he was the best of the bunch but one punch changed it all." Jim Watt
What the winner said
"From the first second of the opening round, Watson's pace was manical. To this day, the boxing fraternity say he kept up the pace of a lightweight, not a super-middleweight. He just did not stop. I hit him with everything, very hard shots, yet with every punch I landed he just kept on coming, hitting me hard, pressing forward, relentless, constant. I have never been beaten up as much as in that fight. I got absolutely battered." Chris Eubank
What happened next
Britain watched on as Watson was in a coma for 40 days, including six brain surgeries. He won the toughest battle of his life and remains an inspiration to boxing, to sport and indeed Britain. The lack of paramedics or ambulance on site was changed immediately. Eubank was one of the first hospital visitors that night and dedicated his return five months later, a subdued points win over Sugar Boy Malinga.
It is a fight we will never forget, but what do you remember about the first world-title tussle between two British super-middleweights? Fill in the feedback below...