Froch-Groves: Howard Foster was safe rather than sorry, says Jim Watt
Jim Watt admits that Howard Foster made a slight mistake - but was better being safe than sorry.
By Jim Watt
Last Updated: 14/05/14 5:11pm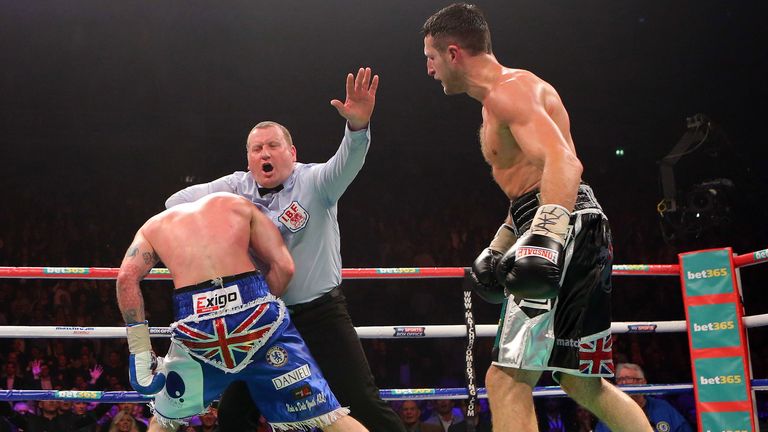 I can understand why the fans thought it came early and we all saw the young lad's reaction, but there are a couple of reasons why, in my opinion, it was not as bad as many people were making out.
Firstly, even if Groves was allowed to go a few more shots or even a handful of seconds, we don't know what was coming. Secondly, he is - or was - a little inexperienced and that was a big factor for me.
The fight had started to turn towards Froch in the last couple of rounds and the ninth round was the first real crisis of the night for Groves.
But because he hadn't seen it before, he tried to come back with big punches of his own and was getting hit and hit - and more and more often.
He needed to grab hold of Froch - as he had done earlier - or maybe even take a knee and get the eight-count to clear his head.
But he came blazing back and the macho approach took over and that left him more open, and I think played a part in Howard Foster's decision.
There was also a point that Groves alluded to in his interview afterwards and was spot-on because it was another factor that had a part to play in the decision: Froch's reputation.
Reputation
He is - as we know and saw in that stunning first round - as hard as nails. Now, if he had been taking the same punches in the ninth I don't think the referee would've stopped it.
But Groves pointed out that his reputation has him down as "chinny" and he has been on the floor before. Add that to a 25-year-old in his 19th fight and I think Foster was probably more worried about the challenger.
You can't really do much about that but if the referee was going to make a mistake - and yes, it was a slight mistake - that was the better one to make.
There are memorable incidents where referees should've stepped fights earlier and we all know and remember fighters that have had their careers and lives ruined by a single punch.
Groves, though, at least came away in a wonderful situation; he left with his reputation enhanced and he was quite simply the hero. And he now deserves a rematch.
He was different class, genuinely different class, and I had him beating Froch clearly. There were a few close rounds that people gave to Froch but I still liked Groves' work better, all the way up to that ending.
If Froch wants to box again, the Groves has to get a rematch - but all that depends on the world champion wanting to box again.