Promoter Eddie Hearn backs referee Charlie Fitch to oversee Froch-Groves II
Promoter Eddie Hearn has backed the decision to name Charlie Fitch as referee for Carl Froch-George Groves II.
Last Updated: 23/05/14 5:03pm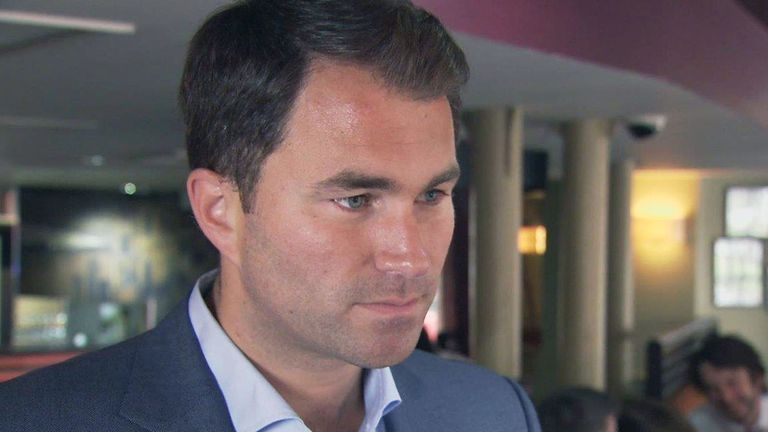 Hearn last week raised an objection after Jack Reiss was considered as the official, forcing the IBF to seek a replacement for the world title unification clash on May 31st, live on Sky Sports Box Office.
Fitch, an experienced New Yorker, has been put forward as the possible man in the middle, and both Froch and Groves have agreed with the appointment.
Hearn told Sky Sports News: "The initial officials were put forward by the IBF and the British Boxing Board of Control. There was one complaint, one issue arisen by both teams, one for a referee, one for a judge.
"A new referee was selected, a guy called Charlie Fitch from New York, very experienced, done about five or six world title fights.
"I think he did (Miguel) Cotto against (Austin) Trout, was his last big world title fight, and a new judge.
"They've now gone back out to both teams - we're happy- I think the other team are happy and that's gone back to the IBF.
"We'll get there. I think obviously George was insistent on no British officials for this fight, so the lists get put together.
"It's not a huge issue, I think everybody will be happy and we can get this fight on."
Froch has paid little attention to the identity of the referee and plans to cut short his duties at Wembley Stadium.
"I'm not interested in who the referee is, the officials are," he said.
"I'm convinced - and you can mark my words with this - this fight isn't going to go the distance. It's not going to go 12 rounds. George Groves cannot hear the final bell."