Froch v Groves II: Carl Froch retains world titles with crushing KO of George Groves
Carl Froch retained his world titles with a stunning eighth-round knockout win over George Groves at Wembley.
By Richard Damerell
Last Updated: 01/06/14 9:05am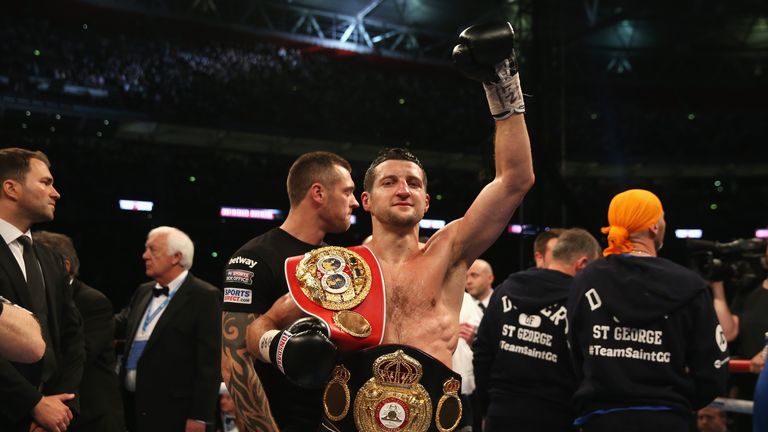 The Nottingham man ended the rematch with a huge right hand in the eighth, leaving Groves helpless on the canvas and confirming his status as the WBA and IBF super-middleweight champion.
A bitter feud had simmered beforehand, but the rivals stayed composed in a tactical second fight, despite an 80,000 audience, and Groves appeared to have a foothold until 'The Cobra' ended the contest in dramatic fashion.
In a tense opening round, Groves landed two early jabs and the pair traded tentative lefts, with neither man willing to commit the first assault.
Both fighters were struggling to find their range and Froch wrestled his man to the floor during an ugly clinch. Froch was spared a rebuke from referee Charlie Fitch, but Groves landed the first telling punch, a spearing right.
A cagey contest started to ignite in the third as Froch found the mark with a hook and stiff jabs. Groves refused to give ground, firing back defiantly with a right hand.
Accurate
Froch's jab was an accurate weapon, pushing his foe onto the back foot in the fourth, although 'The Saint' did catch him with a rare right hand.
But the champion was dictating the contest from the centre of the ring, forcing Groves to take risks. His inexperience was exposed in a rash attack as Froch duly punished him with a barrage of hooks in the fifth.
Stiff jabs continued to dissuade the Hammersmith man in the sixth and Froch was also winning the physical battle, bullying his opponent back into the ropes so he could punch away at close quarters.
But Froch's dominance was broken at the start of the seventh, a searing jab rocked him back onto his heels and Groves at last started to land his right with regularity. Froch, sensing the need to stand his ground, swapped hooks on the ropes, but the younger man had the final word.
Groves, suddenly filled with fresh confidence, continued his assault in the eighth, tagging a static Froch with punches before slipping out of range. The younger man, frustrated for so long, seemed ready to take command, but Froch brutally shattered any thoughts of a late rally.
Following a brief flurry of punches, Groves unwisely backed to the ropes and Froch seized his chance, sending a big right crashing onto his opponent's chin.
Groves collapsed worryingly to the canvas, laying prone for a few seconds before clambering up against the ropes. But Fitch had seen enough and waved it off, sparking scenes of celebration in the Froch corner.
Despite the ill feelings between the fighters in the build-up to both contests, Froch was quick to praise the boxing abilities of Groves.
"I've been in with some of the best fighters in the world, and it was neck and neck in there," Froch told Sky Sports Box Office.
"There was nothing in it, it was a close fight. It was a stand-off, tactical fight and sometimes in professional boxing it only takes one punch.
"And when you've got the punch that I've got it just shows that one punch can be all the difference and all it needs.
"Unfortunately for George he was on the end of a very heavy right hand from a seasoned champion. But we've both done ourselves proud tonight."
Asked about the brutal knockdown, which saw him laying prone for a few seconds, Groves said: "I'm fine - it's boxing. Fair play to Carl, he caught me and I went down.
"I felt I was doing very well - I was in my groove, boxing well - but I've got to hold my hands up: Carl caught me with a shot. I'll come back bigger, better and stronger. I feel like I let myself down but congratulations to Carl."