Froch v Groves II: Amir Khan says an American should referee rematch
Amir Khan has backed the IBF's plans to appoint an American ref for Carl Froch and George Groves's rematch.
Last Updated: 27/05/14 3:45pm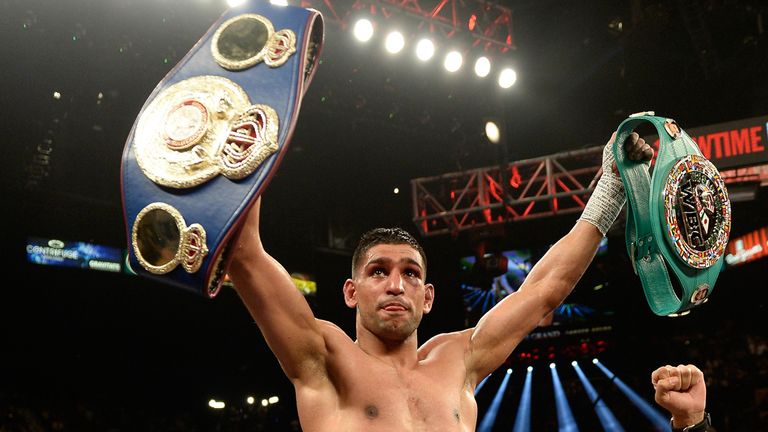 The Bolton welterweight was speaking as Californian Jack Reiss seemed set to be confirmed as the third man in the ring but since then New Yorker Charlie Fitch has overtaken him only to also be rejected.
Khan still believes that an American is best placed to referee at Wembley Stadium after English official Howard Foster was accused of stopping the first fight prematurely and buying into the tough reputation of the champion.
Khan said: "When you've got two English guys and people know Froch - he is a bigger name - it's going to be very hard to have a British ref. I think it's best to go Stateside and get one of the big guys in.
"The big boys coming from Stateside over in England will treat it fairly, he doesn't know either of the fighters. I think that would be the best option. He needs to be hard with these guys and tell them 'look guys, no holding' because in the first fight it was a little dirty at times. A lot of pushing and shoving."
Khan believes that Foster stopped the first fight too early when Froch pummelled Groves against the ropes in round nine.
"The ref shouldn't have stopped it that early because it's boxing - you're going to get hit with a good shot!
"You're going to get wobbled a few times but that doesn't mean the ref has to jump in and stop the fight, at least let the fight go on because even the crowd started booing and I think the ref knew he made a mistake," said Khan.
"These are the championship rounds, nine, 10, 11, 12. Four rounds to go until the fight is over and Groves is up and the ref jumps in and stops the fight? This is boxing, you have to let it go until the end.
"Us fighters train until we get knocked out. We know how to take these shots. Sometimes we might get hit with a shot and it might be a decoy to come back and knock your opponent out, because he thinks you're hurt and his hands go down and he goes wild, you end up putting him down.
"It's happened in the past. It's happened numerous times where guys have been put down hurt and you think they're finished and they've come back and knocked the other guy out.
"You need a referee there who's going to treat it like an even fight."
The IBF are expected to name the man in the middle in the next 24 hours with both Reiss and Fitch still in the running.
Book Froch v Groves II: Unfinished Business now, online at skysports.com/frochgroves2, via your remote or via your telephone on 08442 410888.