Froch v Groves II: Ghislain Maduma predicts entertaining battle with Kevin Mitchell
Ghislain Maduma believes his lightweight clash with Kevin Mitchell is potentially more exciting than Froch-Groves II.
Last Updated: 29/05/14 9:44pm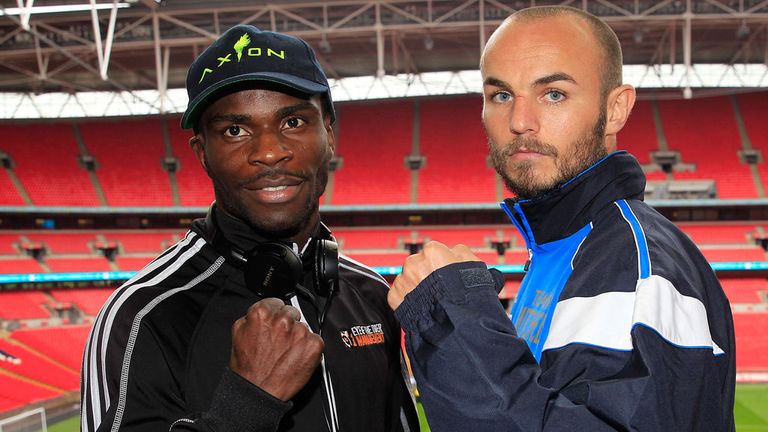 The Canada-based fighter will battle Mitchell on this Saturday's undercard, live on Sky Sports Box Office, with the winner landing a shot at IBF champion Miguel Vazquez.
Maduma, originally from Congo, gained plenty of amateur experience after moving to Canada, and is yet to suffer a defeat in 16 fights since joining the professional ranks.
A match-up involving Mitchell should supply excitement, especially with added pressure to perform, and his opponent expects a memorable encounter at Wembley Stadium.
"You're going to see a lot of skills, that's all I can say, a lot of skills," he told Skysports.com. "I know he's a very, very good fighter, very good skills too so I think it's going to be the best fight of the night.
"Groves and Froch is going to get the most attention, but we're going to get the best fight because we've got very good skills and I think we're going to match-up very good.
"I'm very excited to be there. It's a very historic event for all the boxing world, so I'm very proud to have my name mentioned on it."
Mitchell is facing his second and possibly last chance to secure a world title, whereas Maduma is yet to test himself at the top level.
But the 29-year-old has been preparing in this country since last Saturday and is confident he will burst onto the world scene.
"Yes sure, that's the plan for this year. To first be known on the world level - that's what I'm going to do on Saturday night - and second to be world champion," he said.
"It's going to be a big night for me. You're going to see on Saturday night, make sure you've got a ticket."
Book Froch v Groves II: Unfinished Business now, online at skysports.com/frochgroves2, via your remote or via your telephone on 08442 410888.