Froch v Groves II: Virgil Hunter backing Brandon Gonzales to beat James DeGale
Virgil Hunter has warned James DeGale he has never faced a fast hard-hitting body puncher like Brandon Gonzales.
Last Updated: 30/05/14 12:02pm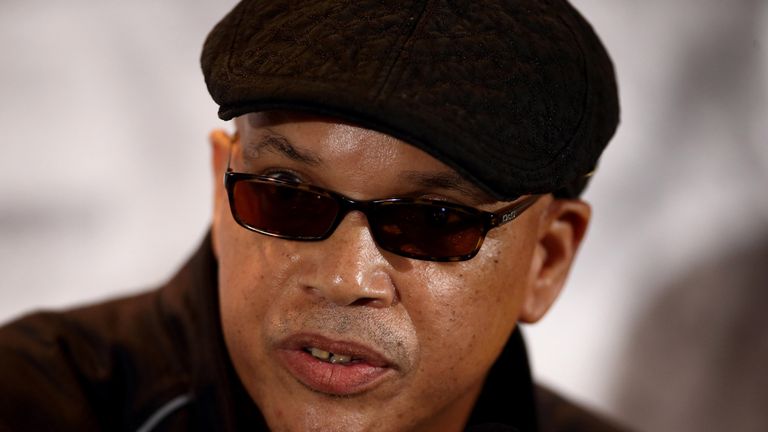 The winner will become mandatory challenger for the IBF strap, held by Carl Froch and challenged for by bitter rival by George Groves, live on Sky Sports Box Office this Saturday.
In the build-up to the fight, DeGale has insisted he has the advantage over Gonzales because he has been the distance on five occasions during his professional career.
But trainer Hunter believes his fighter, who is undefeated in 19 bouts, will seize the moment and win in front of 80,000 fans.
"I think in his (DeGale's) last fight I saw he struggled for 12 rounds and the guy didn't hit him the body or nothing at all," he told skysports.com.
"He might have been 12 rounds, but that doesn't mean he was dominating, it means he was extended 12 rounds by a guy, who hasn't fought any of the guys here.
"So you had B-level guys extending you for 12 rounds because you couldn't figure it out.
"Listen, DeGale is a gold medallist, he's got the pedigree and I think we're going to have to make adjustments throughout the fight.
"I think that if we can go into the sixth round, maybe even down by one, probably we have a great chance to win the fight. Particularly if he's able to work the body."
Hunter also trains Britain's Amir Khan as well as undefeated WBO and WBC super-middleweight king Andre Ward.
But he revealed the pride training Gonzales - who he described as a "murderous" body puncher - has given him and is backing the Californian to take his career to the next level with a win.
Proudest
"Brandon knows the magnitude of this moment," he said.
"He started boxing at 20. He's 29 now and I told him it will take him 10 years to come into his own.
"I'm very proud of him, in fact he's one of my proudest accomplishments when you think about when he started and how far he has come.
"He's won the Golden Gloves title and he was 66 and five as an amateur. He's beaten some of the top guys with athleticism. I would say he has come much further than DeGale considering the point at which he started.
"There is no looking back, this is his opportunity, this is his moment in the sun so he has to take it.
"Of course his career will move up a level (with a win), I think he moves up a level. It's a very important fight for him."
Book Froch v Groves II: Unfinished Business now, online at skysports.com/frochgroves2, via your remote or via your telephone on 08442 410888.