Froch v Groves II: George Groves says his preparation for the Carl Froch rematch has been perfect
George Groves claims his improved training regime has put the result of Saturday's rematch with Carl Froch beyond doubt.
Last Updated: 30/05/14 11:20am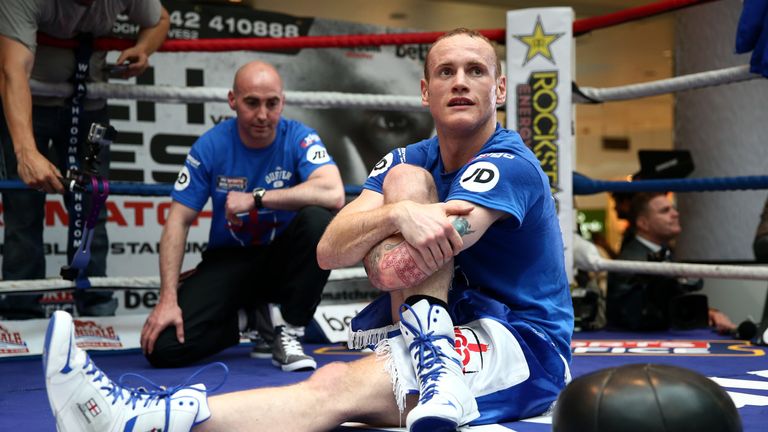 The challenger came agonisingly close to dethroning IBF and WBA champion in November, when Froch clambered to his feet after a devastating first-round knockdown to controversially stop Groves in the ninth.
Ten years Froch's junior at the age of 26, Groves has responded to question marks over his ability to keep up the pace in later rounds by knuckling down on conditioning work with conditioning expert Barry O'Connell and strength coach Dan Lawrence.
Groves told Sky Sports News: "The team has gelled really well and we've got that confidence in each other that isn't just belief; it's knowing.
"We believe we worked well together before the first fight but it was the first time and it was a bit rushed. This time we've had a much longer, smoother camp. It's been well said now that I've spent much more time with my conditioning coach Barry and my strength coach Dan. Obviously (trainer) Paddy Fitzpatrick as well."
For his part, Froch has admitted underestimating the Hammersmith fighter in their first encounter and insists camp for the return bout has been far more instensive - but Groves was quick to dismiss 'The Cobra' having watched a video of a recent sparring session.
Groves added: "The sparring they showed wasn't flattering to him at all. Maybe it was the best bit of sparring they could dig out for him or maybe it was the worst.
"I don't need to necessarily worry about his tactics too much now because this is all about me. As big as headed as that sounds, as long as I think about myself and go out and perform, he's not going to be at the races.
"If he's talking about being close to his fight weight an awful long time before fight night, that's not a difficult thing, it's not a healthy thing. You look at Oscar de La Hoya when he did it against Manny Pacquiao and he ultimately said he got it wrong. He picked up injuries and illnesses throughout camp and couldn't perform on fight night.
"Over-training can be a factor but again it's not something I'll rely because the very best Carl Froch could show up and it still won't be enough."
Book Froch v Groves II: Unfinished Business now, online at skysports.com/frochgroves2, via your remote or via your telephone on 08442 410888.