Froch v Groves II: Trainer Paddy Fitzpatrick thrilled by Groves
Trainer Paddy Fitzpatrick says George Groves is a 'different animal' ahead of Saturday's rematch with Carl Froch.
Last Updated: 30/05/14 11:25am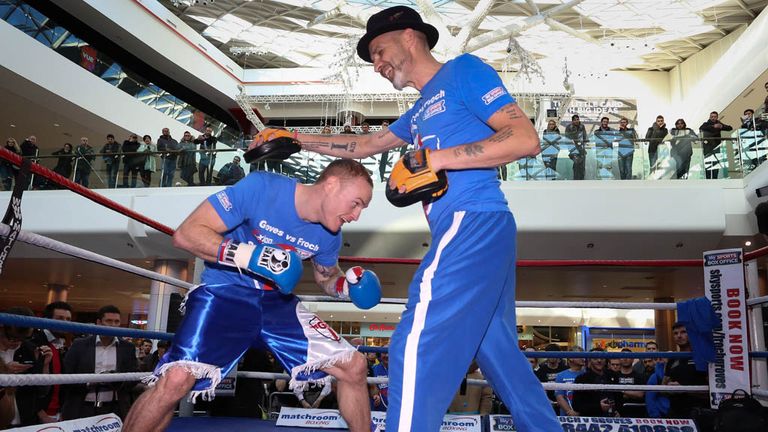 Many felt the 26-year-old Londoner was running out of steam when controversially halted by IBF and WBA champion Froch in Manchester in November - but Fitzpatrick insists his man is well capable of going the distance if needs be.
The Irishman told Sky Sports News: "I came in at nine weeks last time and chose not to have total control because I didn't want him to hear my voice every day about every single aspect.
"I asked him how he was on his runs and he said he handled them okay. I asked him how he does making weight and he said he was good. Normally, you'd keep an eye on that so I said I'd see if he hadn't the energy I require in the gym, I'd look into the runs and if he was not where he should be with the weight, we'll discuss that.
"He went into that fight not prepared the way we would like but he was prepared to beat Carl. We're not trying to go back there but he wasn't as prepared as much as we would like.
"This time Barry O'Connell has taken charge of all his fitness and at week 12 George texted me to say the run he did that night was harder than any run he had done on his own in the last camp. He's in a fantastic space. He's done 15 rounds of sparring and he's ready to go.
"Everything has to be tidier, everything has to be neater and everything has to be polished. We can't show up here and expect it to be given to George. You've got a champion who has been at world level for a long, long time.
"You know what to expect with him (Froch). You've got to respect him and that's what we've done because we've prepared completely. We're good to go.
"It would seem people think George isn't a 12 round fighter based on the last fight, when we don't know what was about to happen. You do know he fought Glen Johnson for 12 rounds and was flat out letting his hands go. George can fight at a high pace.
"That was based on the way he used to get himself ready. He is a different animal this time round - not thanks to me but thanks to Father O'Connell there."
Book Froch v Groves II: Unfinished Business now, online at skysports.com/frochgroves2, via your remote or via your telephone on 08442 410888.