Froch v Groves II: Mikkel Kessler says George Groves must go to war with Carl Froch
Mikkel Kessler says Georges Groves must got to war with Carl Froch if he wants to win their rematch.
By Richard Damerell
Last Updated: 30/05/14 6:11pm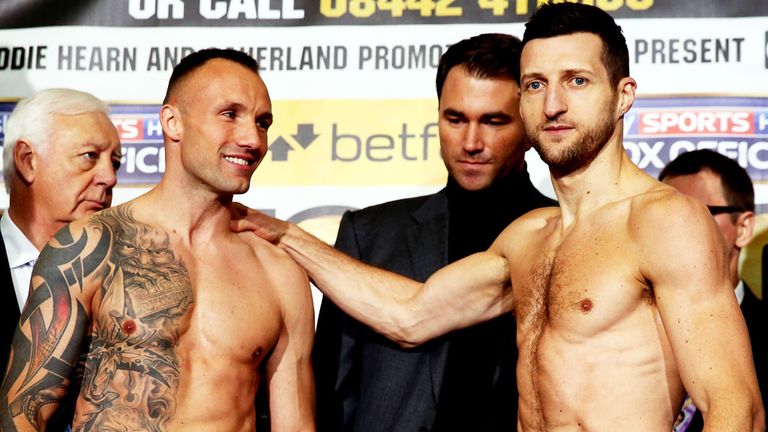 Britain's bitter rivals will meet again this Saturday at Wembley, live on Sky Sports Box Office, and Kessler can offer insight into both men.
The Dane shared two thrilling contests with Froch, winning the first on points in 2010, before suffering a decision defeat at the hands of 'The Cobra' last May.
And Kessler sparred with Groves in the build-up to that fight so is fully aware of the Londoner's attributes.
He will be an interested onlooker at ringside this weekend, having confirmed his intention to resume his career, and offered some advice to 'The Saint' as he attempts to avenge his first defeat.
Asked for the secret to his win over Froch, he told skysports.com: "It was a lot of punches, it was a war. You have to give him hell, throwing a lot of punches at Carl, a lot of combinations at him.
"When I see the fight number two that I lost, I put my combinations together. I hit him hard and solid. I had the best solid punches in that fight, but Carl, when you hit him once, will always come back with some punches.
"That's what Groves has got to do. He's a counter fighter and he's very fast and that's where Carl's weakness is.
"He needs to have the final word in the exchanges."
Excited
Froch was forced to overcome a first round knockdown before forcing a controversial stoppage win back in November.
Kessler accepts the Nottingham man's admission that he overlooked Groves, but expects him to have prepared more diligently on this occasion.
He said: "Carl is a good fighter. I don't know how much he can change, but I'm sure of one thing: that he's trained very hard for this fight and will do anything to win it. I'm sure of that.
"His last fight, he didn't think it was a walkover but he thought Groves wasn't that good."
But Froch is not the only man who needed to make changes as Kessler took note of how Groves wilted under a late onslaught.
He feels the younger man exerted all his energy in a frenetic start and urged him to keep his head, amidst a red-hot atmosphere at Wembley.
"He was very excited when he fought Carl; of course there's a lot of pressure on him. He's very hungry, wants to go forward, but he gets very tired out," said Kessler.
"Carl, he's a very good finisher and you can see that. He got more and more tight and the punches came more and more from Carl, who has been fighting so many World Championship fights.
"He should not be that tight on Saturday, he should try to relax more and control the fight."
Great
The feud between the two Brits has continued to simmer ahead of the second fight, with the two men swapping insults at every opportunity.
There is no sign of the mutual respect that Kessler shared with Froch, but he understands how tensions can boil over as a fight approaches.
"Sometimes in the press conferences you can be excited and say something you probably wouldn't in a normal day. I don't know what triggered that, but I know they hate each other. That's a fact," said Kessler.
"I'm too old for that. Carl, he's a gentleman in my eyes. When you come to the fight, the week up to the fight, you can say something (to each other) in the press conference.
"But when we stand there, we go into the weigh-in, we're not friends. That is how it is. It's good to build a fight like that."
Groves recently signed for Sauerland promotion, who also oversee Kessler's career, and a future battle between the pair would appear a likely option.
Kessler remains keen to face Froch a third time, but must wait to see who emerges victorious on a historic night for British boxing.
"We have to see what will happen on Saturday", said the 'Viking Warrior'.
"Of course I want to fight both of them. I think they are great fighters.
"I know Groves has not had a lot of World Championship fights, but what he's shown us the last time is he's one of the big ones now. That's for sure."
Book Froch v Groves II: Unfinished Business now, online at skysports.com/frochgroves2 or via your telephone on 08442 410888.