Froch v Groves II: Amir Khan says Andre Ward is tipping George Groves to win
Amir Khan says world WBC super-middleweight champion Andre Ward thinks George Groves will edge Carl Froch.
Last Updated: 30/05/14 5:04pm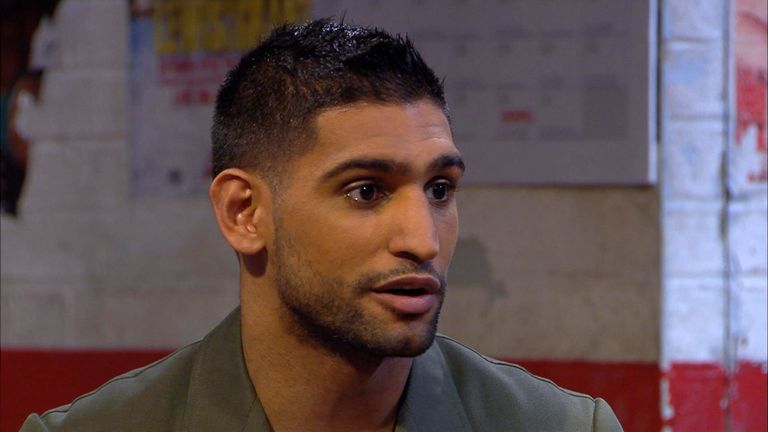 The former two-time world champion shares a trainer with the top-rated Ward and echoed his gym-mate's opinion that Groves is well capable of exacting revenge and snatching Froch's IBF and WBA belts.
Khan, 27, said: "When I spoke to Andre Ward last, he thinks George might take the fight because of his superior boxing skills. He thinks the last fight would have taken a lot out of Froch, especially when he was put down in the first round. He thinks George will take the fight.
"It's going to be an exciting fight. I'm very excited to be there. Normally I'm fighting but it's going to be great just to enjoy a boxing event.
"It's going to be a great clash of styles. Both of them wanted the rematch and it's hard to say who's going to win. I think it's a 50-50 fight and people don't know what to expect.
"Carl needs to box a bit more. He needs to use his jab and he needs to be busier in the earlier rounds. He falls short early and gets behind on points and I think he's got to throw power shots sooner. If he puts the aggressive style on, he can win the fight.
"If George wants to win the fight, he has to box more too. In the first fight, I think he overworked himself by throwing a lot of shots. If he boxes smartly and uses his good footwork, he could get the win as well. It's whoever comes out on top on the night.
"A lot of people thought George was winning the fight. I had him up on points. The stoppage wasn't the best stoppage. The referee should have let it go on another 10 or 20 seconds. George will be thinking he could have been world champion because he was winning.
"I've bounced back from defeat and it's only made me a better fighter so I think George can come back stronger from this defeat and he knows he can win because he's a better fighter.
"Froch takes a lot of punishments in fights. It catches up with him and you never know - in this fight it could show that it's taken its toll. If he boxes smartly and doesn't get hit as much as he normally gets hit, then he can win."
Book Froch v Groves II: Unfinished Business now, online at skysports.com/frochgroves2 or via your telephone on 08442 410888.