Froch v Groves II: Both fighters make weight ahead of rematch at Wembley
Carl Froch and George Groves both looked in peak condition as they made weight for their rematch at Wembley.
Last Updated: 30/05/14 5:53pm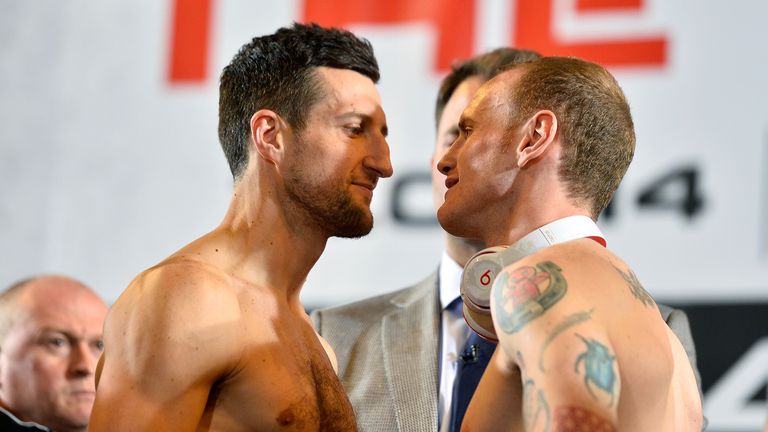 A raucous crowd in the region of 7,500 gathered at the national stadium and challenger Groves was well inside the super-middleweight limit at 11st 12lbs 4oz for his showdown with Froch on Saturday, which you can see live on Sky Sports Box Office.
Froch received a mixed reception, with some jeers ringing out from the London crowd, but the 36-year-old WBA and IBF champion looked lean as he tipped the scales at 11st 13lbs 9oz.
When both men went face-to-face for the obligatory photographs, 'The Cobra' whispered some words towards the grinning Groves, who stayed silent.
James DeGale is targeting the winner of Froch-Groves and looked in decent shape at 11st 13lbs 7oz, while his American foe Brandon Gonzales was also inside the limit at 11st 13lbs 9oz.
An exciting undercard includes lightweight Kevin Mitchell, who made the mark at 9st 8lbs 9oz.
The Dagenham fighter, like DeGale, is facing an IBF final eliminator and takes on Ghislain Maduma (9st 8lbs 12oz).
Jamie McDonnell, who is hoping to become a two-time world champion, was inside the bantamweight mark at 8st 5lbs 10oz.
He challenges Tabtimdaeng Na Rachawat for the vacant WBA title, with his Thai opponent coming in a few ounces lighter at 8st 5lb 1oz.
Heavyweight Anthony Joshua, who weighed in at 16st 12lbs, is relishing the chance to open the show against Matt Legg (16st 12lbs).
"Right now we are five minutes from my house, all the guys are out to have a good night and I'm here to entertain," said the Londoner.
"I'm on the undercard, I'm feeling great. I can only imagine how Froch and Groves are feeling."
Book Froch v Groves II: Unfinished Business now, online at skysports.com/frochgroves2 or via your telephone on 08442 410888.
Weigh-in results:
Carl Froch (11st 13lbs 9oz) v George Groves (11st 13lbs 9oz)
James DeGale (11st 13lbs 7oz) v Brandon Gonzales (11st 13lbs 9oz)
Jamie McDonnell (8st 5lbs 10oz) v Tabtimdaeng Na Rachawat (8st 5lb 1oz)
Kevin Mitchell (9st 8lbs 9oz) v Ghislain Maduma (9st 8lbs 12oz)
Anthony Joshua (16st 12lbs) v Matt Legg (16st 12lbs)