Anthony Joshua starts Wembley bill with first-round stoppage win
Heavyweight Anthony Joshua opened the Froch-Groves bill with a swift stoppage win over Matt Legg.
Last Updated: 01/06/14 1:10am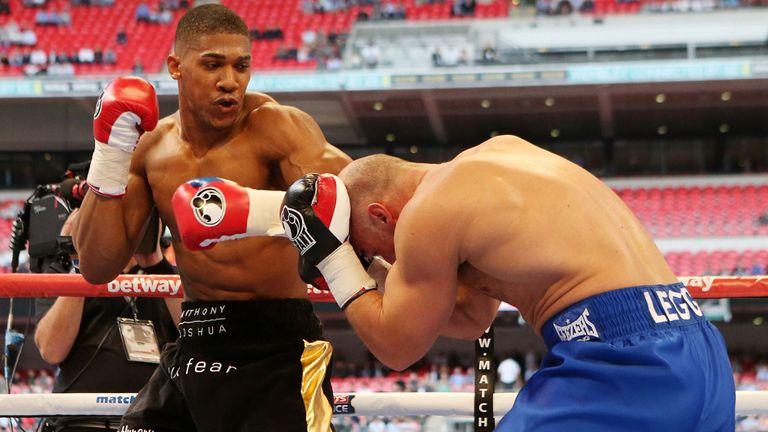 The Olympic gold medallist started the Wembley show in explosive fashion, halting his opponent in just 83 seconds.
Legg marched forward with intent from the opening bell, gaining Joshua's attention with a decent left hook.
The 24-year-old smiled back at the Milton Keynes man and responded with some short cuffing hooks of his own.
Legg tried to shield himself with a high guard, but Joshua ripped through his defences with a crisp uppercut that dumped his opponent on the canvas.
He climbed unsteadily to his feet and was denied further punishment as the referee waved it off.
Promoter Eddie Hearn confirmed Joshua would be handed a tougher test against Matt Skelton in his next fight on July 12 in Liverpool.
"I knew he was going to come out swinging. I saw straight away it was a small ring, I knew he couldn't outwork me, so I thought let me just tuck up and enjoy it. Take a few, give a few," Joshua told Sky Sports Box Office.
"Potentially, I feel that I could step-up. Experience wise, I haven't gone past three rounds as a pro, so experience is really what I need.
"I've just come back from a small injury so I'm back in the mix now, I'm rolling again."