James DeGale halts Brandon Gonzales to set up shot at Froch-Groves winner
James DeGale can look forward to a world title shot after a ruthless fourth-round stoppage win over Brandon Gonzales.
Last Updated: 01/06/14 11:23am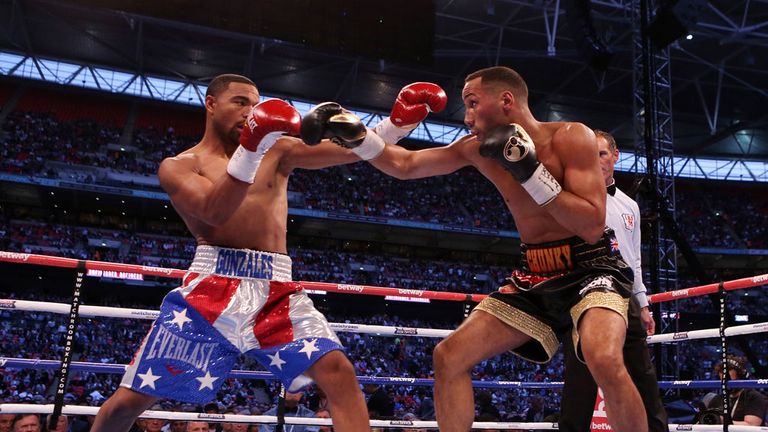 DeGale produced a razor sharp display against an unbeaten opponent, taking command from the first round and then finished the job with a relentless assault in the fourth.
There were complaints from the Gonzales corner about referee Steve Gray's intervention, but the Harlesden man could savour an impressive display in a final eliminator for Carl Froch's IBF super-middleweight title.
DeGale came out firing from the first bell, shaking Gonzales with a looping left inside the opening seconds, while another left ripped through his guard later in the round.
Both men dug in body shots in the second, but DeGale could not miss with his left hand, and the American was sporting a cut at the bell.
In the third, Gonzales struggled to pin down the elusive Londoner, who hammered him with hooks before skipping out of range. The Sacramento man gamely strode forward in search of a telling punch, but was made to eat spearing jabs.
Gonzales tried to bully DeGale to the ropes in the fourth, a foolish tactic as a right hook followed by a left sent him crashing to the canvas. He clambered to his feet, but DeGale sensed the finish was near and another left stiffened Gonzales' legs and referee Gray stepped in.
Virgil Hunter, the beaten man's trainer, voiced his dismay at the swift stoppage, but DeGale appeared ready to pounce on his dazed foe.