Froch v Groves II: George Groves finally gives Carl Froch respect after defeat
George Groves admitted Carl Froch deserved all the credit after he was halted by his bitter rival at Wembley.
Last Updated: 01/06/14 1:52am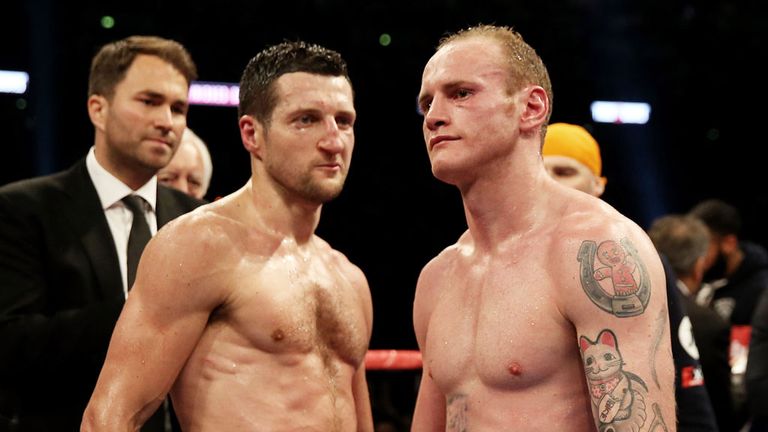 Froch retained his WBA and IBF super-middleweight titles in destructive fashion, flooring Groves with a huge right hand before the fight was waved off by referee Charlie Fitch.
The pair had engaged in a war of words before the rematch, with Groves showing the champion little respect after he was controversially halted in the first fight.
But there was no argument about the outcome at Wembley, with Froch claiming a memorable win in front of 80,000 fans, and Groves was forced to congratulate his foe.
Asked about the brutal knockdown, which saw him laying prone for a few seconds, he told Sky Sport Box Office: "I'm fine - it's boxing. Fair play to Carl, he caught me and I went down.
"I felt I was doing very well - I was in my groove, boxing well - but I've got to hold my hands up: Carl caught me with a shot. I'll come back bigger, better and stronger. I feel like I let myself down but congratulations to Carl."
Groves insisted the rivalry had been blown out of proportion in the build-up and maintained that he bore no genuine malice towards the Nottingham man.
Hype
"I mean it's boxing you know and the fights are hyped," he said.
"I honestly feel no way about any of my opponents. I don't like them or dislike them.
"It's the easiest way for me to go about my business, but I would love to come again."
The Londoner was gaining a foothold in the fight when Froch signalled the end with his single right. Groves admitted he paid the price for a costly lapse, but is confident he can still land another title shot and refused to rule out a third meeting with Froch.
"I was ahead on the scorecards until that point and I'll be pushing hard to get my world title shot, and maybe if Carl's still boxing that might be against Carl again," said 'The Saint'. "It's back to the drawing board.
"I'm young enough and I will come again. I will improve from this fight. I made a mistake, I made a silly mistake. I left my chin open for a right hand and we want to be perfect, so all the imperfections need to be corrected. We'll come back stronger, we look forward to it.
"We had a good camp, we've got no excuses, but we will improve. We're improving week in week out in the gym and I'll come back stronger, but tonight's all about Carl really. It's his night now."