Froch v Groves II: Glenn McCrory is waiting to see if George Groves can deliver second time around
George Groves is an entertaining enigma and might be the next big thing in boxing, says Glenn McCrory.
By Glenn McCrory
Last Updated: 23/05/14 9:30am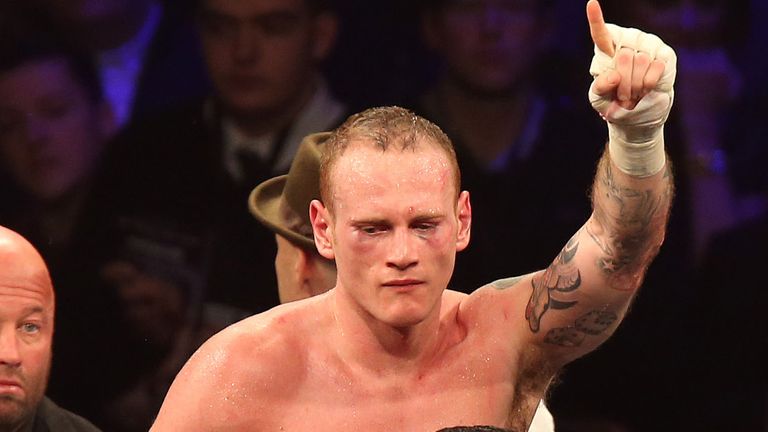 Like most of you I watched them both on Ringside and although it didn't come close to their last visit in terms of fireworks, everything seems to be exactly how it was last time.
But Groves' decision to join the Sauerlands is a big change. I don't think anyone was expecting that sort of announcement this close to such a big fight, it came as a complete surprise.
That said, I like it. It seems as if Groves wants to move beyond Britain, take over Europe as well as take on America and you cannot blame him. You only get one chance in boxing and you have to make the most of it, when you can.
The Sauerlands are good guys as well and it is nice to see more brothers taking over and now running the sport. We have of course got Eddie Hearn leading the way and Francis Warren doing a great job as well, as the family tradition carries on.
I like that and the one thing this shows me is that Groves is supremely confident right now. In everything he does. You could also point out that he is even more of an enemy now he is representing Sauerland against Matchroom's main man, Carl Froch.
Middle
Froch though insists he no longer gets wound up by him. I am still not so sure, though. Let's be honest, the simple fact is he is a better figther than Groves is, has achieved far more and is more experienced. Fact.
We are now in the middle of a couple of weeks off, as it were, when neither will see each other. So I cannot wait to see if things have changed or if it is going to be exactly the same, because if it ends up like that, George Groves will wind him up.
There is something about him that gets to people. Ask James DeGale. Ask Carl Froch. Ask Kenny Anderson as well. He is a smashing kid but somehow, for some reason, Groves manages to get inside people's heads and drive them nuts.
I think I was the one that labelled it Unfinished Business straight after the first one and I am not sure if it is going to be finished this time either. There is just somethig about these two, with Groves the one lighting the blue touchpaper every single time.
It is starting to remind me of Ali-Frazier or Benn-Eubank, a match-up where the two fighters want to win more than anything on earth, but there is always something that crops up - or someone. And when that fight week comes around we will all be reminded of just what these two do to each other.
That is a given but it will be interesting to see Groves when they get back together in those crucial, make-or-break last few days. It worries me that the young challenger is becoming a bit of a star when he did not win the first one and he is not a world champion.
Enigma
We have seen plenty of him and you can understand that because this is a huge, huge fight. But is this his big pay day? Is that why he has to make the most of the build-up? Or is he looking at Froch then James DeGale and Andre Ward? He could be the biggest name in boxing, providing he is doing this right.
You couldn't knock either and I like George Groves. The lad is an enigma, an entertainer and a character. He is different and he is far from your average boxer. He thinks outside the box that's for sure.
I have never met a boxer who could do a Rubick's Cube in a press conference - in fact I've never known anyone who could do one full stop! I am not sure what it achieves other than I am sure Carl Froch wants to shove that cube down his throat.
They say you can win and lose a fight in the build-up but becoming the world Monopoly champion or Ludo star does nothing. It will have no impact once they both get in the ring. And if I am honest, I think it's pointless.
It sums George Groves up in the build-up and I like it. In the next couple of weeks we will see what he brings to the table this time round. It is going to be different and it is going to be entertaining.
We will all be watching over the next two weeks and certainly on the night when Wembley Stadium will be sold out. Will the young upstart sting the experienced champion and end his reign? Ali did just that to Frazier and he did it in the build-up too. It might not have been nice at times, but it did the trick.
Is George Groves the second coming? We will find out...
Book Froch v Groves II: Unfinished Business now, online at skysports.com/frochgroves2 or via your telephone on 08442 410888.