Potential problems
Where could Carl Froch or George Groves slip-up on Saturday night at Wembley? The Sky Sports boxing panel give their thoughts
Last Updated: 29/05/14 2:29pm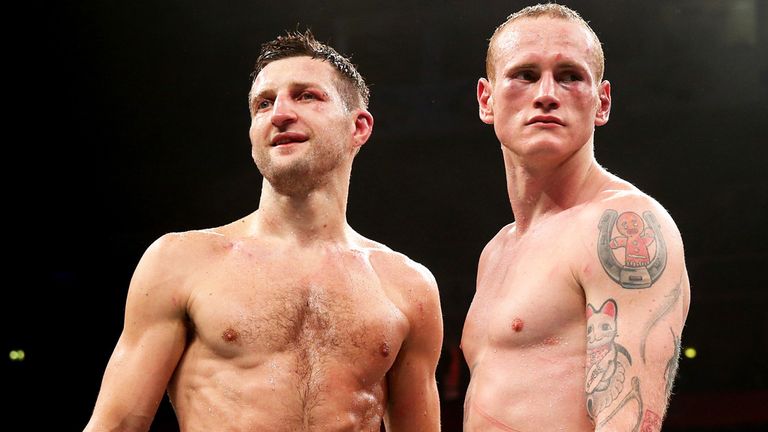 Our panel of pundits, Jim Watt, Johnny Nelson and Glenn McCrory, take a look at each man's weaknesses and have their say...
FROCH'S POTENTIAL PROBLEMS
JOHNNY: I think pace is going to be Carl's biggest problem. He is slower than George Groves, we know that, and even if he says he is going to be quicker second time around, the champion is still the slower of the two. Pace is the key and it could be the one area that leaves him exposed - providing Groves has a gameplan to make the most of it and sticks to it. If Groves can set the pace and control that pace he will win because for all his other attributes speed has never been one of Froch's strengths. But he has worked around it and to do that this time he must be able to walk Groves down - regularly. It means he will be a target but in turn that means the challenger will not be popping in and out.
JIM: Groves speed and his power are the biggest problems Froch has to deal with and at almost 37, having spent the last four or five years fighting the best in the world and racking up plenty of miles on the clock throughout his career, dealing with that speed and power is a huge problem for Froch. That's especially true in the early stages and I don't think there's anything he can do about that. Froch just has to tighten his defences up, block as much as he can and get past the halfway stage. From then on his experience and ability in the championship rounds can give him an advantage. But first of all he has to see off the younger man's intensity and survive his power and pace in the early rounds.
GLENN: I hate to say it but ego... and I don't mean this in a disparaging way. Carl Froch has performed at the top level for a number of years now and he is now on a pedestal and by being on that pedestal you are there to be shot at. It might sound scary being up there and being shot at but it is even harder to get off that pedestal and go back to being a contender. Now obviously Carl still has those belts and that means he is a champion and has been for a long time and that can be hard to cope with. He admits he under-estimated Groves last time out and of course we don't expect him to do that again, but it is so, so difficult to do that when you've been at the top for so long. Psychologically Carl Froch is the man but there is a challenger who has come along and is telling everyone he is now the man. Now that means Carl has another battle on his hands and will that ego, will that psychological battle be somehing he can deal with again? We will see but if he can't climb off that pedestal, he can get knocked off it for sure!
GROVES' POTENTIAL PROBLEMS
JOHNNY: It is a strange word to throw in but naivety could be an issue when you are talking about that last quarter of the fight, those championship rounds. When you hit that part of a fight - never mind the biggest fight of your life - that is when you get tired and you start working on instinct. That second wind usually comes on and gets you through but it does take time for it to become the so-called 'norm'. You can see why we always hear Carl Froch going on about it so often and keeps pointing it at Groves because he has been there, seen it, done it. He almost belongs in the championship rounds but Groves just hasn't been there very often and just doesn't have experience of that. That naivety could became an issue, never mind what the opponent has done in the closing stages!
JIM: Froch did some nasty stuff up close last time, throwing his elbow in, pushing Groves around and things like that. Froch has experience at this level and can resort to Plan B and rough Groves up if he's in trouble. By getting in close like that Froch will also spoil Groves' attacks and deny him the room he needs to get his punches off. Groves can't let that happen. He mustn't let himself get too close to Froch, because the more experienced man will then use his physical strength to his advantage and turn it into a messy fight. Groves needs to keep his distance, use his speed and movement and not get drawn in to a close-range scrap with Froch.
GLENN: The one thing that could backfire is the fact that George Groves wants to make a statement, ram everything down Carl Froch's throat. At first I didn't realise the absolute conviction he has to win this but it is becoming more and more clear that this is on the verge of an obsession. Focus is one thing but being hooked on becoming a world champion is a different ball game. It is not a bad thing but you just don't know whether that leaves fighters with one eye on the bigger picture, when you need to be dealing with the fight itself, the here and now. Groves is the young gun-slinger that has strolled into town and he is convinced he is going to win the war and he will be the new sheriff in town. Yes, that is the aim but sometimes the win is not enough and that is clearly not enough for Groves. I happen to think he will take the super-middleweight town over come Saturday, but there is always the chance that he tries too hard to nail Carl, to show the world and make a statement we can all see.