Talk the talk...
Carl Froch and George Groves talk a lot - but fight night will show who's right, says David Haye
By David Haye
Last Updated: 28/05/14 7:05pm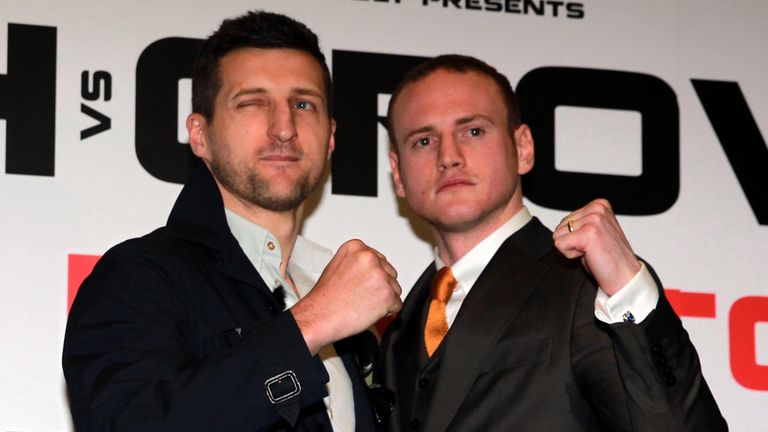 They are both British super-middleweights, they both have big followings and they both really want to not only beat each other but also knock the other one out!
That is what makes this fight so interesting because both guys will give good reasons and explanations why they are going to do it.
They both give a very good argument too, very, very good arguments why one will beat the other. And we won't know who's right until the fight happens!
George Groves isn't really a wind-up merchant. He does have a good sense of humour though and he's very funny too. He's got a very dry sense of humour but he does get it. He is a young guy who is, I think, wise beyond his years.
Carl, though, has learned his lesson from the first one. He may have been focusing on the wrong things, more on what George was saying as opposed to what George had in his fist!
He wasn't really fazed by what he had in front of him and he just thought George was a cheeky newcomer who was lucky to be in the same ring as him, let alone potentially someone who could beat him.
This time round he has to be on his game.
You can get complacent in life and if something happens the same every time, you can just assume it is going to happen like that the whole time. I remember when Roy Jones won the world heavyweight title against John Ruiz, he went back down to light-heayweight - not cruiserweight all the way back down to light-heavy to fight Antonio Tarver! It was just complacency.
You can just expect to roll back into what you always do and always expect to get the results - especially when you are fighting a young, upcoming challenger.
Confident
If you look at it from both angles, they are both very, very confident for the right reasons. They've both got every reason to believe that they can win the fight.
Look at Carl; he had a horrible start to the fight, a terrible start, one of the worst starts any boxer could've had! He was nearly knocked out in round one, his legs were all over the shop and he was beaten up. He admits it, he got hurt badly in the first round.
He weathered the storm, he came back and showed what true grit, what heart and determination he has and he found a way to get a foothold into the fight and just turn the fight around - after being beaten up!
If you get hit that hard in round one it takes a few rounds to get your stuff together, your legs firing on all cylinders, your nervous system twitching and you can't see shots and you get hit by more shots.
So the fact that he turned it around and started to put the pressure on George and hurt George, you could say Carl ended up putting on a great display.
If you look at George on the other hand, he had never fought at that level before and nearly knocked him out in one round, dominates for most of the fight and the referee stops the fight early - and not in his favour.
Carl was probably in a way worse state in the first round than George was in that round but he was given the benefit of the doubt.
So both fighters you can give huge respect, really believe in both of their stories.
Belief
If you sat down and spent an hour with Carl, no matter who you believed was going to win the fight, Carl would convince you he was going to win.
If you sat down with George and he broke it down with his version of events you would think 'yeah, you're right, you are going to win'.
They have both got very, very strong arguments and that is why this fight has captured the public's imagination because both have a reason to win and can justify their arguments. Oh and my money is on the draw!
Book Froch v Groves II: Unfinished Business now, online at skysports.com/frochgroves2 or via your telephone on 08442 410888.