Brook vs Spence Jr: Investigation into Kell Brook's weight cut back to welterweight
The inside-story of the gruelling regime to hit 147lbs
By James Dielhenn
Last Updated: 08/08/17 10:14am
Kell Brook is in the final stages of his most demanding weight cut to date. Sky Sports investigated keto diets, burning calories and cheat meals...
Nutrition expert Greg Marriott, the mastermind behind Brook's weight cut to defend his IBF belt against Errol Spence Jr live on Sky Sports Box Office next weekend, exclusively explained the secrets of how to beat the scales.
How did the camp start?
Kell came out to Fuerteventura before the 10-week camp to get into a routine. He does two weeks without me so his weight doesn't look so bad! He weighed 12st 5lbs. His body is just so dense.
After having 10 months out, we always knew he could get back to welterweight - but how long would it take, and how hard would it be?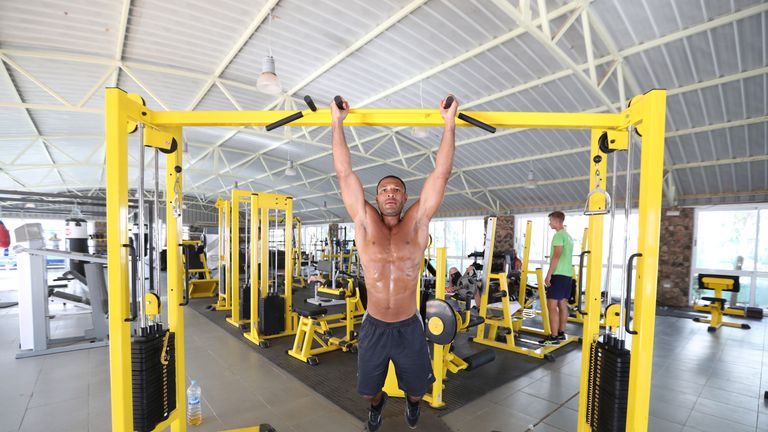 The weighting game
| | | | |
| --- | --- | --- | --- |
| | Welterweight | Super-welterweight | Middleweight |
| Pounds | 147lbs | 154lbs | 160lbs |
| Stone | 10st 7lbs | 11st | 11st 6lbs |
What was Brook's diet like?
It's very personal working with an athlete - you can't just get a uni degree and give them a textbook diet. You need to make sure he's feeling good, mentally and physically.
First, we put him on a strictly-controlled keto diet for a couple of weeks which burns fat. Then, at Sheffield Hallam University, we test his blood to see how many carbs he's using. Then he goes on a low-carbohydrate high-protein diet.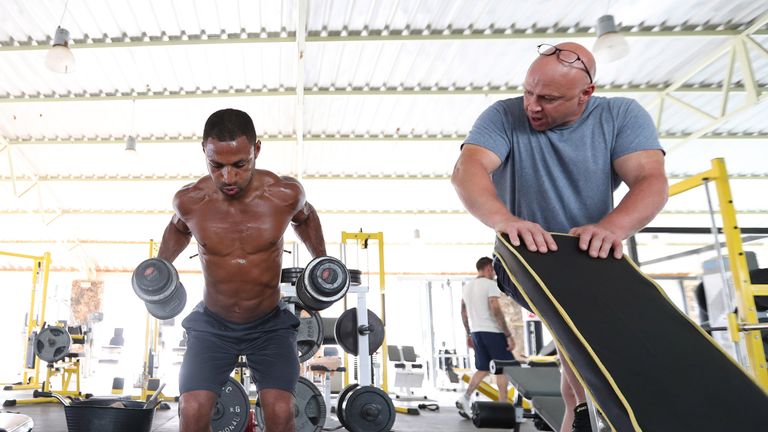 How difficult is it?
It's all about recovery. I can see when Kell is tired as his carbohydrates drop - you need to realise when that is, because otherwise it might take days to recover. Then training won't be as good, and he might burn muscle.
What's on the menu every day?
If he spars in the morning, he'll wake up at 7am and eat slow-release carbohydrates like a bowl of simple oats. An hour before he spars at 10am he has a fast-release carbohydrate like white bread with jam or honey. That gives him the boost that he needs. After sparring he'll have a recovery shake.
For lunch we don't give him any more carbs - he'll have fresh tuna caught that day with a big salad. We've got great restaurants in Fuerteventura, always fresh produce.
Nutritionist Greg Marriott
Two hours later we feed him again - lean beef, or chicken with loads of beef. In the evening he'll have a low-glycemic carbohydrate like sweet potato with lean fish. Salmon is very calorie dense - you can't just cut, cut, cut weight. He doesn't eat rabbit food.
How much discipline is required?
Six weeks out, he knocks on my door saying: 'I'm hungry!' It's intense because I need to mentally satisfy him and keep him satiated, but there is a weight he needs to hit. Three weeks before the fight, he switches on.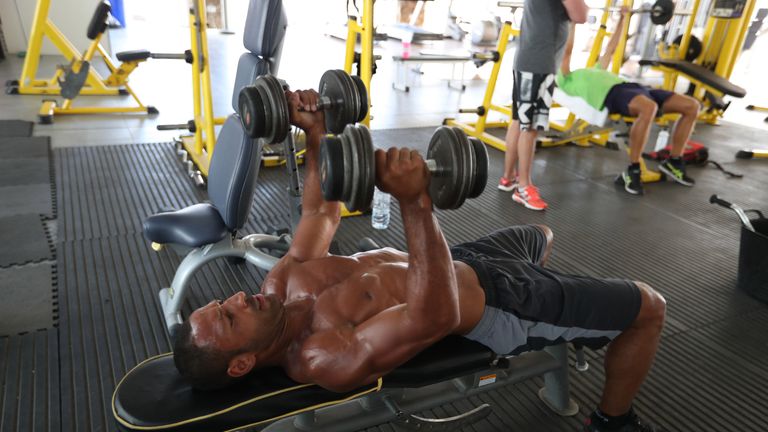 Does Brook lift weights in the gym when cutting weight?
Kell is a perfect mesomorph. If he looks at a weight he'll put muscle on, he finds it easy. In this camp, he's done circuit training. This camp has been drastically different to the Golovkin fight.
Does he sneak a cheat meal?
Kell is having a cheat meal on Friday, May 19, which he'll show everyone on Twitter! I promised that if he stuck to the plan, which he has, and if his weight was absolutely perfect he could have a cheat meal.
A cheat meal satisfies the dopamine gland and (I know this will sound daft) but it burns through the metabolism. Two days after a cheat meal, if you do it properly, you'll drop more weight!
Nutritionist Greg Marriott
How long can Brook keep making welterweight?
If he stays at the weight, without going up between fights as he's adamant that he won't, he can do it two more times. He's definitely going to have one more at welterweight. There will be a point when he has to move up, and I believe that will be in the next 18 months.
Watch Brook vs Spence Jr, from Bramall Lane, Sheffield, May 27, live on Sky Sports Box Office. You can book the event online here.