Commonwealth Games: England's Helen Housby tipped to shine in netball competition
By Dev Trehan
Last Updated: 24/07/14 6:32pm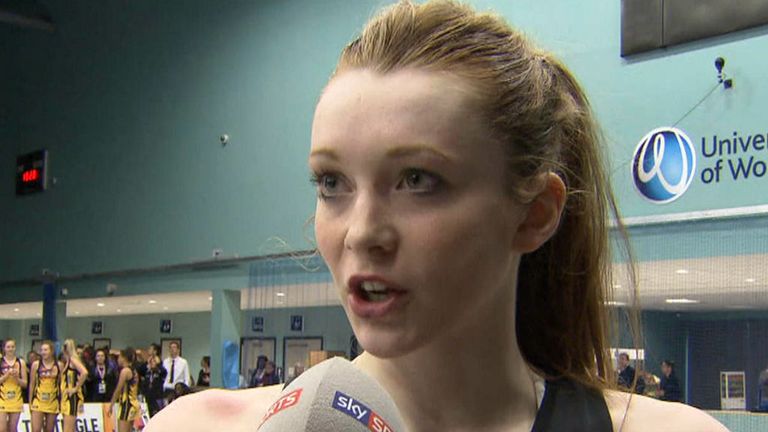 England netballer Stacey Francis believes 'unknown quantity' Helen Housby has the ability and temperament to make an impact at the Glasgow Commonwealth Games 2014.
Rising star Housby was the ZEO Superleague Player of the Year runner-up after a magnificent season where she helped Manchester Thunder clinch the title with a last-second winner against Surrey Storm.
The 19-year-old capped a memorable campaign with an international call-up and Francis is backing the Cumbrian to impress in Glasgow.
"Helen is the only member of our squad not to have been capped befoe but I think this is a phenomenal opportunity for her," Francis told Sky Sports.
"It will be great for her to step out on court in the Commonwealth Games and earn her first cap.
"She's someone who is completely unfazed by everything that's going on around her. She's got such a cool head and that is exactly what you need as a shooter.
"It's a very pressurised position and one that is dictated to by your stats and the performances that you put out but I think her inexperience is only going to bode in our favour.
"Helen is someone who will be an unknown quantity for a lot of the teams that we play and that should hopefully give us a completely different advantage over our opposition."
Schedule
England's Commonwealth campaign sees them play five matches in six days, beginning against Wales on Friday before they face Australia and South Africa over the weekend.
Regular captain Pamela Cookey is not in the squad due to injury but Francis insists the team remains confident despite the absence of their influential skipper.
"There was no doubt that it was a devastating loss for the team. She's our captain and she has been the star player for England for a long, long time," the Team Bath defender said.
"But if there was anything to be fortunate about it was that it happened with quite a lot of training time ahead of us.
"We've discussed the effect that it's had on the team, not just physically but emotionally, because Pam is not just a team-mate of ours, she is also a very good friend.
"But once we finally went through that brief grieving process, we decided that the best thing to do is to just move on."
Francis added: "we're all looking forward to a fantastic first game against Wales which is a real big local derby for us.
"I'm actually quite close to some of the girls in the Welsh team because I went to university in Cardiff so there has been quite a bit of banter flying around between us."