Commonwealth Games: Brownlee brothers, Vicky Holland and Jodie Stimpson seal gold
Last Updated: 26/07/14 3:56pm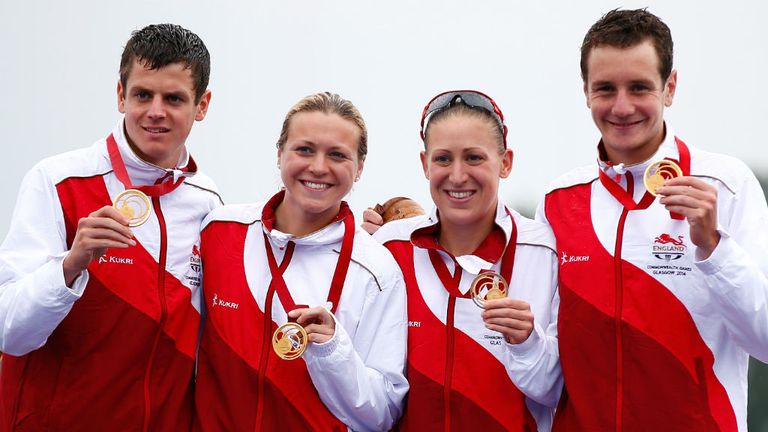 Alistair and Jonathan Brownlee helped fire England to a cleansweep of the triathlon gold medals on offer at the Commonwealth Games, anchoring the mixed relay team to victory on Saturday.
The sprint distance mixed team relay was making its Games debut, with teams featuring two men and two women who each swam one 250m lap of the Strathclyde Loch before embarking on a 6km cycle and a 1.6km run.
We knew the pressure was on us because we were all on the podium for the individual event.
Jodie Stimpson
The English quartet of Vicky Holland, Jodie Stimpson and the Brownlee brothers clocked a time of one hour, 13 minutes, 24 seconds around the course.
South Africa were 49 seconds behind to take silver, just ahead of Australia who claimed bronze one second adrift in third.
Holland was first to tackle the 250 metre swim, 6km bike ride and 1.6km run before handing over to younger Brownlee Jonny, silver medallist behind his brother in the individual event.
He gave England a comfortable 16 second lead over of the rest of the field.
Romp home
Stimpson, who won the first gold of the Games in the women's triathlon earlier in the week, was pegged back by New Zealand's Nicky Samuels but Alistair romped home on the final leg to take victory for England and claim his second gold of the Games.
"It was a good race, it was always close, or at least it was until the last leg," Jonathan Brownlee said. "Vicky gave us a good start, I just had to keep it safe, Jodie destroyed it and then Alistair finished it off."
"It's been an incredible couple of days," added Stimpson. "We knew the pressure was on us because we were all on the podium for the individual event.
"However, I'm been in these dream teams before and it's not worked out, so I wasn't hanging the medal around our necks before the race. Things can always go wrong but thankfully we got our tactics spot on.
"The Olympic distance hurts like hell but this hurts too, probably because you are racing for a team and putting everything on the line for them."