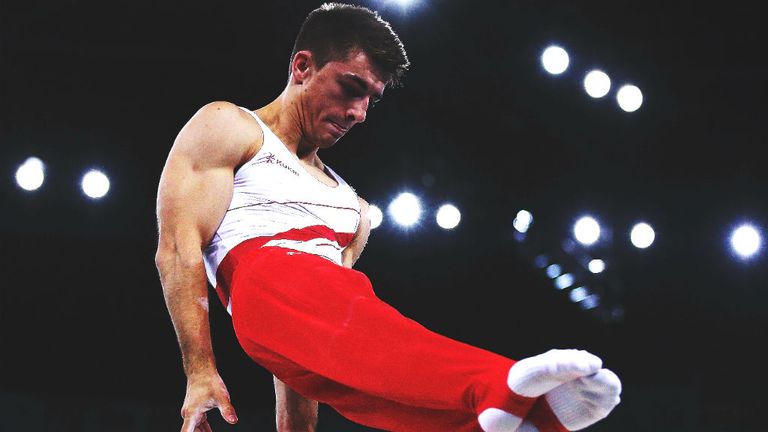 The team gymnastics finals come to a conclusion at the Commonwealth Games on Tuesday with England's men and women both sitting in gold medal positions.
At the halfway stage of the competition in the Hydro, Glasgow, the five-man team of Louis Smith, Sam Oldham, Kristian Thomas, Max Whitlock and Nile Wilson sit on a score of 133.806 across the floor, pommel horse and rings, with the remaining pieces of apparatus to be completed.
Scotland's five of Frank Baines, Adam Cox, Liam Davie, Dan Keatings and Dan Purvis are currently second with 127.240, while Canada are third and Wales' men in fourth.
England's women, led by Olympians Becky Downie and Hannah Whelan are also in pole position after scoring 85.390 on Monday after competing on the bars and vault to sit top of the team standings ahead of Australia with 83.882 and Wales with 81.398, with Canada, South Africa, Scotland and New Zealand further down the rankings.
Gymnast Ruby Harrold is sitting in second in the all-around standings with team-mate Claudia Fragapane fourth after the bars and vault while Whitlock is currently top of the men's pile and Wilson third.
The swimming events come to a conclusion with the 1,500 meters and medley relays to be decided while mountain biking makes its only appearance with golds to be contested in men's and women's cross-country races.
The opening day of wrestling will feature 45-year-old Scottish twins Donna and Fiona Robertson, who are former games bronze medalists in judo.
Donna won in Auckland, New Zealand in 1990 while her twin Fiona was victorious in Manchester 12 years ago.
The second day of competition on the track sees the decathletes compete in the 110m hurdles, pole vault, discus, javelin and 1500m.