Commonwealth Games: Glasgow showcase gets under way after vibrant opening ceremony
Last Updated: 24/07/14 12:09am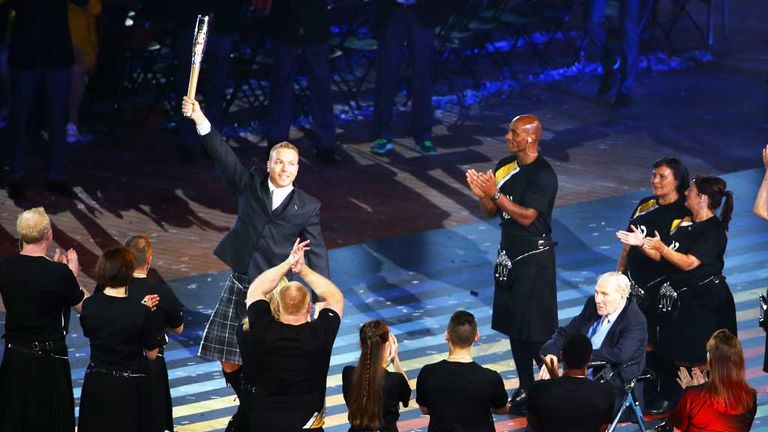 The 20th Commonwealth Games are under way after an electrifying and moving opening ceremony in front of 40,000 people at Celtic Park in Glasgow.
The Queen officially opened the Games on a Wednesday evening bathed in summer sunshine, reading a message which had been stored in the Queen's baton, which has been paraded around 70 Commonwealth nations over the past nine months.
Seventy-one nations are to compete across 17 sports over the next 11 days, with more than 4,500 participants making the event the biggest Scotland has ever hosted.
Amongst the colour, there was a sombre, immaculately-observed minute's silence to remember the 298 people who died in the Malaysia Airlines MH17 flight disaster last week, 82 of whom were from Commonwealth nations.
I'm so proud to be leading the team. It's my first Commonwealth Games and there's no better place for a Scotsman to be.
Euan Burton
And the Malaysian team entered the stadium wearing black armbands and with their flag at half-mast.
The nearly three-hour long ceremony began with an entertaining sequence depicting the history of Scotland, which was followed by live performances from world-renowned Scottish singers Rod Stewart and Susan Boyle.
The Queen then made her entrance while the RAF Red Arrows performed a colourful flyover past the stadium.
Teams from all 71 nations were then paraded, beginning with the 2010 hosts India and ending with Scotland.
The six-time Olympic gold medallist Chris Hoy then carried the Queen's baton on the final leg of its 100,000 mile journey through all of the Commonwealth nations.
There was a brief moment of worry when the President of the Commonwealth Games Federation, Prince Tunku Imran, was unable to open the baton but, aided by Hoy, he eventually produced the message.
The Queen said: "To you, the Commonwealth athletes, I send my good wishes for success in your endeavours.
"You remind us that young people, those under 25 years of age, make up half of our Commonwealth citizens, and it is to you that we entrust our values and our future.
"I offer my sincere thanks to the many organisations and volunteers who have worked diligently to bring these Games to fruition, and indeed to the spectators here in the stadium, and to the millions watching on television.
"Together, you all play a part in strengthening our friendships in this modern and vibrant association of nations.
"It now gives me the greatest pleasure to declare the 20th Commonwealth Games open."
Judo star Euan Burton was Scotland's flag bearer and said: "It was a phenomenal reception when we entered the stadium.
"It's a windy evening and the flag is fluttering high. I'm so proud to be leading the team. It's my first Commonwealth Games and there's no better place for a Scotsman to be."